The country is losing Rs 28,500 crore, at current price, on account of degraded lands. This comes to about 12% loss as per the total value productivity of these lands. According to a study conducted by Indian Council of Agricultural Research and department of space, degraded and wasteland in India cover 120.4 million hectare (Mha) .
The study Degraded and waste lands of India' emphasised on the usage of remote sensing and GIS (geographical information system) technology as one-stop solution for estimation of degraded and wastelands of the country.
Large areas in the country suffer from various types and degrees of erosion. Around 93 Mha land is affected due to water erosion and 11 Mha due to wind erosion. About 6.74 Mha is under salt affected soils and 4.36 Mha forest area is under accelerated erosion due to shifting cultivation.
Water erosion is predominant degradation class. Uttar Pradesh is the worst affected covering 54% of TGA (total geographical area), followed by Madhya Pradesh (44%), Karnataka (41%) and Jharkhand (40%). Globally, about 1,900 Mha land suffers from various degrees of land degradation, the study finds. Land degradation is continuously converting the arable land into degradable lands.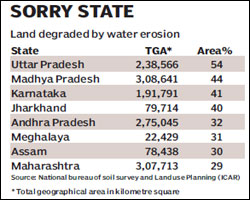 This is depleting rapidly the land carrying capacity and is causing pollution and eutrophication of the natural waters.
United Nations Environment Programme (UNEP) estimates a potential productivity lose of 20 million tonne grains per year due to land degradation globally.
As rehabilitation measures are highly expensive, the study stresses on priority-based planning for land conservation.
Degraded and wasteland assessment is an essential input for planning and conservation. Scientists believe that space science and technology can help in enhancing efficiency and productivity of agricultural system. Correct estimation of green cover and water resources will help in the management of precious assets. Advanced yield forecasting can be a good resource for planning to effectively run the public distribution system, planning commission member K Kasturirangan said.
He said that space-based information support for decentralised planning at panchayat level was required. And constellation of satellites for agriculture was needed to look at the dynamics. Space applications for quick and effective delivery of messages to stake holders have already shown the results and impact, he added.
Planning Commission has identified a set of 100 districts as most backwards. These are food-insecure districts and are identified as degraded lands.
As the crop yields and productivity of the favoured agricultural regions have stabilised, the study finds it is essential that the degraded and waste lands are rehabilitated and rejuvenated so that such land are rendered cultivable. According to National Academy of Agricultural Sciences president Mangala Rai, technological intervention in agriculture is necessary to increase productivity and efficiency. The application of information and communication technologies and a sensor-based decision support system, especially for knowledge empowerment of farmers have to receive priority attention, Rai said.