Considering the fact that the latest instalment of the Dhoom series?Dhoom 3?has turned into a blockbuster, chances are many of you would have watched the movie. Now, all movies of the Dhoom series have one thing in common?chase scenes on fast and powerful motorcycles. While Dhoom 1 featured the Suzuki Hayabusa, the Suzuki GSX-R600 and the Suzuki Bandit motorcycles; Dhoom 2 had the guys racing on the Suzuki Bandit, the Suzuki GSX-R1000 and the Suzuki GSR600. For Dhoom 3, the producers tied up with BMW Motorrad and used the BMW S1000RR and the BMW K1300R models.
In Dhoom 3, protagonist Aamir Khan performs some unbelievable stunts with his BMW K1300R?turning his motorcycle into a jet ski in one scene, and using rocket propulsion to escape in another. Now, we understand that, with today?s machines, such stunts are not possible. But the movie also showcases the usual strengths of both the BMW S1000RR and BMW K1300R models. Let?s try and deconstruct both these bikes.
The BMW S1000RR
Called the ?superbike without compromise?, the S1000RR, according to BMW Motorrad, is known for its sharp handling coupled with extreme ride stability, powerful engine performance and perfect everyday utility. With its aluminium frame, radical braking system and dynamic tail-up-nose-down design, S1000RR does exemplify undiluted racing power.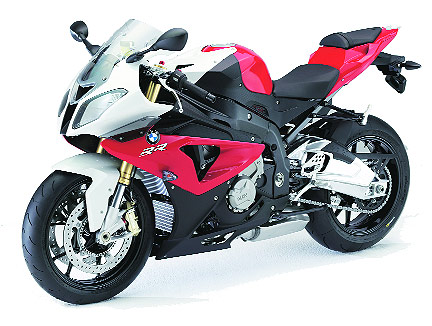 It is powered by a water-cooled, four-stroke, four-cylinder 999-cc engine that produces a maximum output of 193bhp@13,000rpm and a torque of 112Nm@9,750rpm. It has a maximum speed of over 200 kmph and, understandably, consumes a lot of fuel?the company-claimed fuel consumption per 100 km at constant 90 kmph is 5.7 litres, which means close to 17 kmpl. The S1000RR is 2,056 mm long, 826 mm wide and has a wheelbase of 1,432 mm. A road-ready, fully-fuelled S1000RR weighs 204 kg. To control its mammoth performance, it comes equipped with a front dual disc brake and a rear single disc.
The BMW K1300R
?Acceleration even at standstill? would be the correct way to describe the K1300R. It is one of the most powerful models in its segment and, according to the company, this bike meets the most exacting demands in terms of riding dynamics. Its muscular front end and slim, sporty rear section particularly stand out. A naked bike, the K1300R is among the finest lookers on two wheels. It is powered by a water-cooled, four-stroke, four-cylinder 1,293-cc engine that produces a maximum output of 173bhp@9,250rpm and a torque of 140Nm@8,250rpm. (Please note that while it produces less power than the S1000RR, the K1300R produces more torque at lower rpm?the reason why it proves to be a solid competitor to the former on city roads, as showcased in Dhoom 3.) It has a maximum speed of over 200 kmph and is slightly more frugal than the former. The K1300R consumes 5 litres of fuel for travelling a distance of 100 km at constant 90 kmph. It is 2,228 mm long, 856 mm wide and has a wheelbase of 1,585 mm, which gives the bike very good stability (maybe another reason why Aamir Khan, on the K1300R, always managed to escape unscathed in the movie). This bike is also controlled by front dual disc and rear single disc brakes. A road-ready, fully-fuelled K1300R weighs 243 kg?another reason for its stable roadholding manners. Both these bikes are estimated to cost over R20 lakh in India.
?This year will end with a Dhoom,? so went the tagline of this movie. It did, not only for the producers but also for BMW Motorrad, which got the required publicity in India. ?We are proud of the fact that our bikes have played such a high-profile role in the movie,? said Alexander Baraka, head of events, exhibitions and motorsport marketing, BMW Motorrad. While Ishan Raghava, consulting editor, AutoX magazine, added, ?The inclusion of BMW motorcycles in the latest Dhoom franchise points to an ever-increasing awareness amongst Indian audience about what the best bikes in the world are, and a desire to see the same being used on screen, rather than replicas modified to look like the actual stuff.?