As decks are cleared for Indias first village development realty show, Green Kerala Express, Doordarshan is toying with ideas to hold a pan India show along the same lines. As many as 150 Kerala villages have taken the plunge to grab the Rs 1-crore crown for the best development-savvy panchayat, investing first in a short film entry.
In tune with the shows frugality, agility and sylvan energy evangelism, the humble bicycle is the motif for Green Kerala Express. The self-attested entry film is not all, says Sajan Gopalan, assistant director, DD-Kerala. He is in charge of the realty show experiment. Anchors for the show will scour the contestant villages to bring in every tidbits of relevant information to TV audiences and the jury of experts. Mind you, on bicycles, he adds.
The Kerala show has set adrenaline sloshing around in top echelons of Doordarshan and the ministry of panchayati raj. After getting the necessary feedback on the show, a realty show project dovetailing the best facets of villages across the country is likely to be initiated. However, this policy ferment is yet to take a definite shape, a senior DD official told FE.
While in Kerala, the key idea is to map the new strides in sectors like community health, environment sensitiveness, food production, water management and agro-forestry, priorities will be different for different states. This means that the selection procedure has to be region-specific.
Anticipating a potential geographical scale-up of the development realty show, Green Kerala Express has set up a national jury comprising Planning Commission member Mihir Shah and three Ramon Magsaysay Award winnersAruna Roy, Rajendra Singh and P Sainath.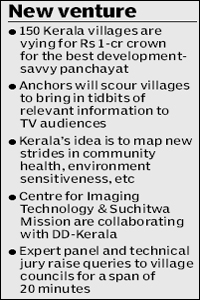 The national jury will take an occasional studied peek, just to ensure that the selection process can be fine-tuned to zero on the most vibrant village council, say K Mohan Kumar, director, Centre for Imaging Technology (C-Dit), which is collaborating with DD-Kerala in its initiative, along with state Suchitwa Mission and the state ministry of local bodies.
In international development news websites, the programme has revved up debates on community-oriented game shows, comparing Green Kerala Express with popular western solo TV competitions like Project Runway and American Idol. The magazine section of site www.fastcompany.com wonders if a similar show would translate well to the US.
Meanwhile, the shoot for the first episode of the realty show was inaugurated on Monday. Expert panel and technical jury raise queries to village council for 20 minutes, based on the submitted videos. An SMS poll would be open for audiences. After shortlistig 15 from 150 councils, the jury will visit the villages before winners are announced, says Mohan Kumar. The 100-episode show will be aired from March 1 to July 31.
For all its grassroots dreams, DD-Kerala knows its market eyeballs enough to flourish a dazzling star face to launch its product. The three-member expert jury for Green Kerala Express include KP Kannan (former director, Centre for Development Studies), Vineeta Menon (faculty at the Kannur University), and south Indian movie actor Padmapriya. Interestingly, it is the grassroots factor that has her hooked to the countrys first village realty show, said Padmapriya, a PHD student in panchayati raj development.