After committing to pay about $14.6 billion for 3G spectrum, telecom service providers may have to dig their pockets deeper if the government does not clear Chinese equipment.
This is largely because equipment from Chinese vendors like Huawei and ZTE come at cheaper rates than that of European vendors like Ericsson, Nokia Siemens Network and Alcatel-Lucent. This helps bring down the total capex.
Also, European equipment vendors would often offer competitive pricing to operators only when Chinese vendors are involved in the bidding process, in order to preserve their market share. Industry viewers say Chinese equipment providers offer a discount of as high as 40% compared to their European counterparts.
In a report, Sachin Salgaonkar, analyst at Goldman Sachs, said, Service providers like Bharti Airtel, Reliance Communications and Idea Cellular are likely to spend additional $1 billion, $800 million and $400 million respectively on capex, assuming they curtail their 2G capex and spend more on 3G for the next three years.
Service providers have been assuming a lower capex considering that 2G investments would be substituted by 3G and there would be no incremental cost for a pan-India 3G rollout. However, considering the fact that now the maximum number of circles with a service provider is 13, capex plans are likely to change.
Bharti Airtel has a capex plan of about $1.8 billion while Reliance Communications intends to spend Rs 3,000 crore. On the other hand, Idea Cellular has earmarked Rs 3,000 crore for the year 2010-2011, which does not include any payouts on account of 3G auction and 3G capex.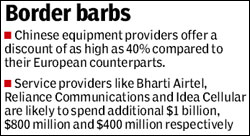 Both Huawei and ZTEs expansion plans in India are stuck due to security concerns raised by the security agencies. A Huawei spokesperson said the company continues to be bullish on the Indian market. We are in continuous talks with the Indian government and hope for a positive solution soon.
Besides Chinese equipment providers, European firms that have manufacturing units in China are not able to get clearance from the government. Service providers are therefore keen on getting clearance from the ministry of home affairs, as the only alternative supplier of telecom equipment, Alcatel Lucent, has a very limited capacity that is unlikely to cater to demands of the Indian market.