Reserve Bank of India (RBI) governor D Subbarao on Tuesday said that risk aversion in the banking system due to growing non-performing assets (NPAs)was constraining credit flow.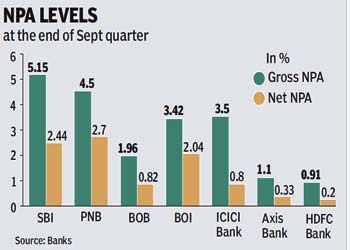 Notwithstanding the importance of repairing asset quality, banks should be discerning in their loan decisions and ensure adequate credit flow to productive sectors of the economy, the RBI governor said in the third quarter review statement. Bankers acknowledge that they are more cautious in lending than would be the case under normal circumstances. But this is not leading them to ignore lending to productive sectors.
It is true that with asset quality concerns arising, bankers will be a little more cautious. But we bankers clearly feel that if there are bankable proposals, there will be no hesitation from our end to lend, said PNB CMD KR Kamath. RBI deputy governor KC Chakrabarty said the current situation where a large number of loans were being restructured was certainly not comforting. He, however, added that companies, particularly in the productive sectors, needed to be supported in these challenging times.
RBI deputy governor Anand Sinha said exposure limits were high in other parts of the world, too, adding that that the main consideration for having these limits in India was to take care of the development needs of the economy.
Sinha added that India is a banking-driven credit economy where banks play a vital role in meeting the funding needs of companies.
The credit exposure ceiling limits for banks in India currently stands at 15% of capital funds in case of a single borrower and 40% of capital funds in the case of a borrower group. The capital funds for the purpose comprise Tier-I and Tier-II capital. This is higher than the norm in the more developed economies.
The RBI is working on new norms for provisioning for restructured assets on the suggestions of the Mahapatra Committee. The committee has recommended that promoters bring in a higher upfront contribution of 15% of the fall in the fair value or 2% of the restructured amount, whichever is higher. Moreover, the promoters need to furnish a personal guarantee. Bankers are looking for a greater representation on the boards of such companies.
---
Norms on new bank licences soon
The process of issuing guidelines on new bank licences is in the final stage and would soon be released, RBI governor D Subbarao said on Tuesday. It is in the final stages, we have consulted the government and they have made certain points to which we have responded and now we are awaiting the government's response to that, Subbarao told reporters. Both the RBI and the government would want to launch this as soon as possible, he said. Asked on RBI's stand on the government's recommendation that real estate companies be considered for bank licences, Subbarao said: You will have to wait till the final guidelines to know that.