The RBI is ready to launch Inflation Indexed National Savings Securities-Cumulative, benchmarked against CPI, to take on the stubborn inflation that has been gnawing at your precious investments. How effective will IINSS-C be Heres a lowdown
The RBI Governor Raghuram Rajan has said that the central bank will launch Inflation Indexed National Savings Securities-Cumulative (IINSS-C) benchmarked against the Consumer Price Index (CPI) today and the subscription can be closed before December 31, 2013 with prior notice. At a time when investors are helpless witness to high retail inflation of over 11 per cent (registered in the month of November) eating into their return on investments in various asset classes, the announcement comes as a saving grace.
Investors are carefully evaluating options that can generate a positive real rate of interest and, while over the last couple of weeks, they have been quick to latch on to the tax-free bonds offering interest rates of up to 9.01 per cent, they may now look up to the launch of the Reserve Bank of India's IINSS as has been announced by the Raghuram Rajan.
With CPI inflation hovering at over 11 per cent, this comes as a huge relief to retail investors who will earn 1.5 per cent over and above the inflation for the year through this product and thereby get a true protection from inflation.
The opportunity
While the Reserve Bank of India launched inflation-indexed bonds (IIB) linked to the wholesale price index (WPI) earlier this year, the upcoming IINSS-C to be launched later this month will be benchmarked against the CPI which is a better indication of the retail inflation and therefore will more realistically provide protection against inflation.
As of now, fixed deposit instruments by banks and post offices are offering around 8.5-9 per cent, the BSE benchmark Sensex has risen by around 7.7 per cent in the last one year while gold has generated a negative return of 10.7 per cent in the same period. This product comes as a big attraction for investors offering returns that are far superior to them.
Experts feel that our country has been under a high inflationary environment for over few years now and as they are expected to remain in similar zone in the near future, it gives investors a good option where they can earn high pre-tax return on their investment.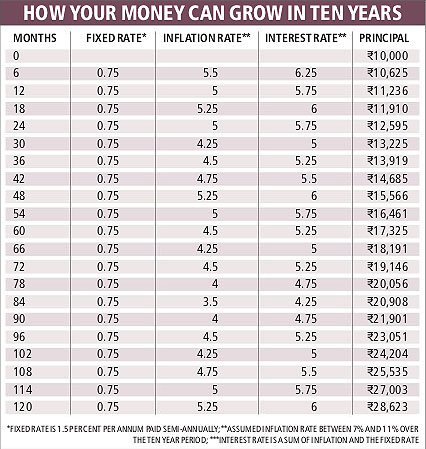 While CPI inflation is currently at 11.2 per cent even they were to come down to levels of 8-9 per cent, investors of these bonds will earn 9.5-10.5 per cent pre-tax due to the fixed rate of 1.5 per cent over and above the inflation and therefore is significantly superior to fixed deposits.
Details of the product
The 10-year bonds are meant for investing only by retail investors individuals, Hindu Undivided Family and charitable institutions and investors can invest a minimum of Rs 5,000 while the investment amount can go up to Rs 5 lakh per investor.
The product offers interest in two parts the inflation rate and a fixed rate of 1.5 per cent. It has been structured in a manner that even if the inflation goes into negative, investors will continue to get 1.5 per cent which is a fixed rate. The fixed rate of 1.5 per cent will be paid six monthly and investors will get the compounding benefit on the six monthly interest.
At the time of redemption they will get both the principal and the compounded interest rate. The inflation rate for a month will be based on the combined CPI of the month preceding three months.
For example, if the inflation rate has to be seen for the month of December 2013, the combined CPI for September 2013 will be used as the reference CPI.
Investors can invest through one of agency banks (SBI & associates, nationalised banks, HDFC Bank, ICICI Bank and Axis Bank) or even through the Stock Holding Corporation of India (SHCIL). On receipt of payment the bank will register the investor on RBI's web platform and generate a certificate of holding.
The securities, however, will be held by RBI that will act as the central depository.
Among other features, the product also allows premature withdrawal facility to investors. While investors can go for a premature redemption at the end of the third year, senior citizens above the age of 65 can do so only after one year of investment. This, however, will attract a penalty and it will amount to half the coupon paid in the last year.
While the bonds can be redeemed prematurely, investors can also use them to seek loans from banks and financial institutions by providing them as collateral and therefore it provides that liquidity.
Tax-free vs IiNSS-c
While IINSS-C is set to be launched later this month, it will coincide with the subscription period for tax-free bonds. As of now, IIFCL and HUDCO tax-free bonds are open for subscription and more may follow going forward and investors will have to weigh their options before buying.
Tax-free bonds offer a fixed rate of return for the entire tenure of the product which is tax free in nature whereas in case of inflation indexed bonds the returns move in line with the inflation and therefore the certainty of a fixed amount of regular inflow is missing.
Also, the investment in these bonds will attract tax at the marginal tax rate. The product, however, is more liquid as withdrawal is permitted after completion of three years. In case of tax-free bonds though, premature withdrawal leads to the bonds getting taxable and therefore loses its advantage over other fixed income products.
With inflation-indexed bonds higher the inflation, better are the returns. While investors may hope for such a scenario, that may not be a comfortable and convenient scenario to be in otherwise.
"Since these bonds are taxable, for individuals who fall in the higher tax bracket it makes more sense to go with the tax-free bonds while those in the lower tax bracket and looking for higher liquidity can go with these inflation indexed bonds," said Surya Bhatia, a Delhi-based financial planner.
It, however, looks to be a decent option for investors and one must opt for part investment in these bonds.