Corporates above a specified threshold would have to clearly spell out the quantum of money earmarked for philanthropic activities in their annual reports once the new company law takes effect. The corporate affairs ministry on Friday said that it had agreed with the recommendations of the parliamentary standing committee (PSC) to mandate companies to shell out at least 2% of their average net profit for corporate social responsibility (CSR) activities.
Corporate law experts said the ministry move stops short of making it compulsory for companies to shell out such funds for CSR, but would indeed cast a far greater CSR obligation on companies under government scrutiny. This is tantamount to a new impost on corporates and looks rather coercive, they said.
Industry chambers vocal in their support to voluntary CSR activities, said they saw no reason for making CSR spending obligatory in any sense.
When contacted, secretary at corporate affairs ministry R Bandyopadhyay said: We are still working out the details of the proposal. The exact legal wording of the text is also being worked out. In general, we have accepted most of the standing committee proposals.
As per the PSC headed by former union minister Yashwant Sinha, the proposal would apply to those companies that have a net worth of Rs 500 crore or more, or a turnover of Rs 1,000 crore or more or a net profit of Rs 5 crore or more.
The companies would have to earmark 2% of their average net profits in the three preceding years to fund CSR activities.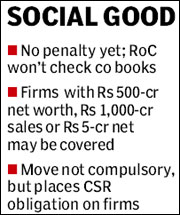 The ministry of corporate affairs has agreed that the Bill may now include provisions to mandate that every company...shall be required to formulate a CSR policy to ensure that every year, at least 2% of its average net profits during the three immediately preceding financial years shall be spent on CSR activities as may be approved and specified by the company, the press statement said.
Supreme Court lawyer on company law Jay Savla said mandating a company to set aside a CSR contribution is short of making it mandatory. The latter would entail a penalty too for violation, which has not been spelt out so far. Delhi-based corporate lawyer Tamali Sengupta too echoed Savla. She said: Mandating companies would mean that the proposal is compulsory for companies to follow. However, the government should have given tax breaks rather than take away a part of their profits. Its somewhat coercive.
Noted corporate lawyer Hemant Sahai who does consultancy with ministries including finance, said the proposed provision will be a tough call for companies. One will have to clearly define what constitutes CSR and who will be responsible for monitoring violations. 2% of net profit is not a small amount and the government has to examine the impact on company bottom lines.
Government sources told FE that details of the proposal whether to make it compulsory for companies or not and the possible penalty to be imposed for non-compliance are still being worked out. If we make it mandatory, then it would require adequate backing of law... This is something that is still being worked out. However, companies would have to clearly spell out why they are not following the CSR proposal, a senior corporate affairs ministry official said who did not wish to be quoted.
Giving some leeway to companies, the government, however, would not open company books to the inspection by the registrar of companies (RoC) for non-compliance with CSR. We have decided that the RoC would not probe company books to see whether they are fully complying with it or not. We hope corporate houses would agree to the proposal and if they are not, then they are answerable to shareholders, a ministry official said. The official also ruled out any exhaustive list of CSR activities to be followed by companies.
Industry houses CII and Ficci supported any CSR proposals by the government till the time they were voluntary in nature. There should not be any attempt to make guidelines mandatory; otherwise, companies can do anything in the name of CSR, Ficci said.