The Reserve Bank of India (RBI) discussion paper on banking licences is expected to refrain from taking a firm view on the possibility of permitting industrial houses and corporates to float banks.
However, the paper will debate the merits and demerits of such a proposal, according to a senior government official. This means the discussion paper, which will review regulations concerning banking licences, would not rule out the industrial houses plea entirely.
RBI governor Duvvuri Subbarao on Tuesday said a discussion paper on new bank licences is likely to be issued in August. Earlier, finance minister Pranab Mukherjee had said the central bank is considering giving some additional banking licences to private sector players and non-banking finance companies, if they meet the eligibility criteria.
Industrial houses such as the Tatas, the Aditya Birla group and the Anil Dhirubhai Ambani group are keen to enter the banking space while many NBFCs want to be converted into banks.
The government and the central bank, though, are yet to make up their mind on whether industrial houses should be allowed to apply for a bank licence.
"While there is a always temptation and pressure that industrial houses should be granted licences, it is a risky bet, said a top policy advisor privy to the government's decision on the matter.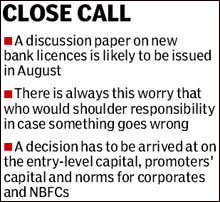 "There is always this worry that who would shoulder responsibility in case something goes wrong. But there is also no clear evidence that permitting industrial houses to run banks is as such a bad idea, the adviser said, reflecting the government's dilemma on the subject.
"There has been a number of issues that has come up as to what should be the entry level capital, promoters' capital, norms for corporates and NBFCs," RBI governor Subbarao said.
The RBI has earlier said it will prepare a discussion paper on the subject marshalling the international practices, the Indian experience as well as the extant ownership and governance guidelines. It will finalise fresh guidelines after discussions with stakeholders thereafter.
All applications received in this regard would be referred to an external expert group for examination. The group will recommend to the RBI on whether to grant licences or not.
The central bank's 2005 ownership guidelines does not allow an individual or a group of related entities to own more than 10% stake in a bank. This makes it tough for large industrial houses to float banks with majority stake.
In the early 1990s, when the RBI issued licences to over half-a-dozen new private banks, they were required to have a minimum net worth of Rs 100 crore. This was raised to Rs 300 crore in 2005 when two more private banks were permitted. The central bank will further raise the minimum net worth criterion while granting licences this time.
RBI deputy governor Usha Thorat had said after the budget announcement in February, There will be new licences. In the last five years we have not given any new licences. However, while we do this, we will keep in view the basic principles.