Sometime at the turn of 1980s, a very bright Indian girl full of dreams and ambitions applied to PricewaterhouseCoopers for a job. Confident that she would make the cut on her merit, she waited eagerly for the audit firms reply. To her utter disappointment, the firm told her that she could not be recruited despite her talent because she happened to be a girl. The job demanded auditors to travel extensively, which they couldnt possibly ask a girl to do. Despite the girls insistence that these are only perceived barriers, she didnt hear from the firm on her appointment letter. According to her own admission, the firm relented after a lot of pushing, shoving and a few important calls. Three months later, the audit firm hired three women, almost as a test case. Many years later, the performance of these three talented women, followed by many others, prompted Amal Ganguly, the then head of PwC India, to admit to this girl that the firm now discriminates actively against men to maintain gender parity. The girl, Naina Lal Kidwai, went on to become the first Indian woman to graduate from the Harvard Business School in the 1980s and now works for HSBC India as its country head.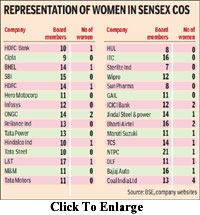 There is more than one thing common in the stories and belief systems of Kidwai, Kiran Mazumdar-Shaw, Vinita Gupta, Swati Piramal, Anu Aga and Jagi Mangat Panda. Apart from the obvious fact that they represent the cream among the handful of corporate women leaders that India has managed to produce, all of them, as a matter of principle, oppose the imposition of quota system in general because it undermines merit. It is understandable considering they represent a world that claims to stand on the pillars of efficiency, productivity and meritocracy. But many of them are today ready to relax this principle to make an exceptionto allow more women representatives in Indian boardrooms. In expressing this excep- tion, these leaders have to a great extent without intent echoed the thought of European Union justice commissioner Vivian Reding, who said: I dont like quotas but I like what quotas do.
Reding has seen a non-EU country in the neighbourhood, Norway, make it happen by implementing a quota. The share of women in Norwegian boardrooms swelled to 40% from a measly 9% in 2003. Reding has started an EU-wide introspection by launching a public consultation on the ways to increase the share of women in the EU boardroom, which stands close to 14% today, up from 8.5% nine years ago.
Compared to EU, the boardrooms of listed, large Indian companies seem starkly deprived of women as their representation hovers around 5%. The dismal representation pales even in comparison with Brazil, Russia and China, where the situation is marginally better and the representation of women on companies boards ranges between 6% and 8%, according to a 2010 McKinsey calculation.
India fares worse in the representation of women in executive committees of these corporations. It stood at an abysmal 2%, way below Russias 11%, Chinas 8% and Brazils 6%. This scenario has emerged despite ample global proof demonstrating that companies with a higher proportion of women in their executive committees perform better, according to studies by McKinsey and several others. This is what causes concern among many and nudges many of these leaders to deviate from their general belief system and seek a quota or at the least a set of guidelines to lead companies in that direction.
Why hasnt it happened
Everyone admits that compared to men, the pool of women contenders for the directors ranks is low, but what most wouldnt buy is that it is so limited that it doesnt even command 10% representation on boards. India Inc has a number of accomplished women business leaders who command a great deal of respect from within the corporate world. They are a strong reflection on the potential of all women professionals. Boards need to consciously induct women on boards as well as promote women to assume leadership roles, Mazumdar-Shaw says.
Both Panda and Kidwai feel that in a country as vast as India, there is no dearth of capable and qualified women, if companies make a serious effort. But unlike most western firms, which actually employ search firms to balance the diversity and constitution of the board, many Indian companies prefer to value personal relationships over strictly professional requirements. There is a degree of chumminess about how boards get formed here, wherein people just reach out to friends, said Kidwai, who gets hunted down by European and US firms more often for being an Indian woman with great competence in the financial domain.
Anu Aga, former chairperson of Thermax India, feels that though unstated, there is a bias against women at the time of recruitment and promotions, quickly adding that some organisations mainly in the banking, IT and service industries have succeeded in shedding these prejudices and at such places, women have shown that given the opportunity, they can indeed reach the upper rungs.
She also points towards a fundamental problem of the gender-skewed representation right at the bottom of organisational pyramid. When I look around, there are fewer women at the workplace. So when there are not many women at even lower levels of companies, rising to the top levels also becomes difficult, Aga says. A CII survey in 2005 showed its member companies had about 6% women staff. Ask her how difficult it is for a women who has found an entry to rise up the corporate ladder, and she candidly admits, I am not the right person to answer this, as I became the chairperson of a company by default, following my husbands demise.
Panda says that Indian companies have not completely realised and recognised that top-level board diversity is directly correlated to better overall performance and, hence, are not consciously working towards creating a level playing field at work places.
Ask Piramal to expound on the reasons that have held back women from reaching the pinnacles of corporate hierarchy, and she promptly counters with questions, Why has the Womens Reservation Bill not gone through in the Parliament after more than a decade of debate Given resource constraints, why does a family send the son for college education despite knowing that their daughter has fared better in school It is centuries of cultural and societal make-ups that would have to be undone. None of them are absolving the woman herself for not having made the cut.
Almost each one of these women say sthat after balancing family with work, even eligible and qualified women are too exhausted to seek out such extra responsibilities. Piramal for one kept refusing many such offers till her children grew up. Many qualified women do not reach the top primarily due to the work environment essentially developed over decades in favour of men since it was dominated by them. Long unpredictable working hours, discriminatory practices, macho cultures and gender stereotyping are deeply embedded at workplaces, Panda believes.
Besides, lack of aggression in the midst of fierce competition among men keeps women away from the top of the pyramid. Most women are diffident to pursue leadership positions within organisations, especially if it means competing with male colleagues. Men are far more competitive and aggressive in their pursuit for leadership positions. I have observed this very closely as a woman at the helm of a company, said Mazumdar-Shaw. Many times, even during their growing-up period, men could be casually forming the right networks, even without harbouring a real intent to do so. Women, especially those who have been part of all-girls schools and all-girls colleges, may not just have formed the right linkages in the corporate web.
Great push & transformation
Piramal, who was recently inducted on the ICICI Bank board, is spending endless gruelling hours in the classroom understanding laws, regulatory frameworks and other technical aspects of banking so that she can keep up with fellow directors and contribute meaningfully to decision-making. She says it is just not easy in this extraordinarily complex world to assume such great responsibilities and women have a duty to educate themselves if they really want to make a difference.
Almost everyone agree that the winds of change are blowing already. Gupta cites Lupins case where close to 40% of global regulatory affairs teams is female. Our Global Intellectual Property Management group is headed by a woman; we have two full-time women directors on Lupins board, 25% of our 1,000-strong research team are women. Simply put, the glass ceiling stands shattered and is no longer a barrier as more and more women join the global workforce, especially as they are stepping into more knowledge-intensive strategic functions across the globe, said Gupta. Mazumdar-Shaw and others point to the banking sector where four formidable women are at the helm: Chanda Kochhar (ICICI Bank) Shikha Sharma (Axis Bank) Kalpana Morparia (JPMorgan) and Kidwai (HSBC).
The European context
With the gender issue gaining prominence in Europe, Piramal is getting many offers from European companies to join their boards. After Norway set the trend, Italy and Belgium have made it compulsory for companies to have one-third women representation on board. France has legislated that listed and large unlisted companies must have at least 20% of board seats for members of each sex by 2014 and 40% by 2017. This has already jacked up the share of women on boards of French companies to 22%. Spain and the Netherlands have floated fresh laws while Germany is debating the matter. As Panda points out, in Europe, Lord Davies report found that if you resign to the status quo, it may take the next 70 years for gender parity to be ushered in.
What women want
Kidwai recommends a temporary quota. I have been very long of the thought that there is nothing like merit. And if you put quotas it detracts from those who have made it. But it is just not happening, not even in family-owned companies. So, I think we need a quota to make it happen initially and then you remove it.
Mazumdar-Shaw gingerly suggests a quota. Gupta thinks a quota would expedite the change in favour of women and jolt obstinate organisations, even though she feels dramatic changes to break the glass ceiling have already happened and the new world order is not about being a man or woman but about having the right idea. Piramal is in favour of a set of guidelines to start with and thinks the desired level of representation is 20% of the board. Panda feels a window of self-regulation for companies would be good to begin with. And if they refuse to break the slumber, a quota would be the right weapon. Aga feels an enabling milieu for women would be the right prescription.
Together, these women leaders believe that it is time for corporate India Inc to grow up.
Geeta Nair contributed to this report