In growing evidence of banks deteriorating asset quality, the number of corporate loans referred to the corporate debt restructuring (CDR) cell in April was the highest in any month since the cell was set up in 2001. Senior officials said the cell received 18 cases with an aggregate loan value of R7,000 crore in April. Only on very few occasions before this has the loan value exceeded this amount in a single month.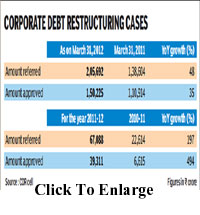 The cases include eight Tayal Group companies for loans worth R2,800 crore, Moser Baer Solar (R740 crore), Renuka Textiles (R232 crore) Aravali Infrapower (R835 crore) and Vardhman Polytex (R449 crore).
With the economic slowdown casting a shadow over several sectors including textiles, infrastructure, iron and steel and retail, more companies are lining up for easier repayment terms. The CDR cell received 24 referrals worth R14,544 crore in the three months to March 2012. In the preceding quarter, the number of cases was 25 with the loan value at R23,071 crore, while 19 cases worth R23,071 crore were recorded in the September 2011 quarter.
Reserve Bank of India (RBI) deputy governor Anand Sinha recently observed that 15% of restructured loans typically turned into bad loans. According to a Crisil estimate, the value of loans likely to be restructured by banks over 2011-12 and 2012-13 is nearly R2 lakh crore. The rating agency said that restructured loans will account for 3.5% of the total advances as of March 2013.
The April spike in referrals was led by eight Tayal Group companies spanning the textiles, real estate and energy businesses, including Jaybharat Textile and Real Estate, Krishna Lifestyle Technologies and Eskay Knit. The total amount of loans referred by the companies stood at R2,811 crore from 17 lenders, with Bank of Indias exposure at R677 crore.
The Hyderabad-based engineering, procurement and construction (EPC) company ICOMM Tele also sought easier repayment terms for the R1,354 crore that it owes to banks. The lead banker in this case is Axis Bank. Another Hyderabad-based EPC player Indu Projects too has requested that the R2,800 crore it owes to banks be repaid on more lenient terms.
Bank officials and industry analysts estimate that many banks, including Union Bank, Canara Bank, Allahabad Bank and Indian Bank, will see sizeable amounts of loans being restructured in April-June. In the March 2012 quarter, Punjab National Bank (PNB) restructured loans worth R8,600 crore while Bank of Baroda (BoB) restructured loans worth R5,100 crore.
Among sectors that accounted for most of the recast were power and aviation. In line with the previous quarter, State electricity boards and the Air India loan accounts will form a sizable portion of restructured accounts in the June quarter. Vijaya Bank could recast loans worth Rs 2,700 on account of the Haryana and UP SEBs. Canara Bank and Allahabad Bank could see a rise in their restructured loan books of Rs 5,385 crore and Rs 1,157 crore, respectively.