Growth in infrastructure sector output slipped to 4% in September from an upwardly revised 7.8% in August, data released by the commerce & industry ministry showed on Wednesday.
This would likely result in lower growth in the index of industrial production, which grew in double digits--10.4% in August--after a gap of 22 months. The infrastructure sectorcomprising cement, coal, steel, electricity, crude oil and petroleum refinery productsaccounts for almost a third of the IIP. Growth in the Core Six stood at 4% in September 2008.
IIP for September will not be in double digits, confirmed DK Joshi, principal economist at rating agency Crisil. In the first half of the fiscal, though, infrastructure output growth was at 5%, up from 3.4% in the same period last year.
Indias chief statistician, Pronab Sen, said IIP growth in September is unlikely to match the August pace, which was buoyed by a low base-year growth of 1.7% in the same month last year.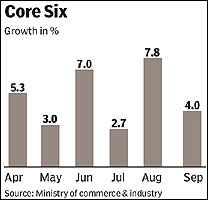 Coal and cement, which topped the charts in August with growth rates of 12.95% and 17.6%, respectively, slipped to 6.5% each in September. Electricity generation grew 7.5%, against 4.4% last September, while petroleum refinery product output expanded by 3.45% against 2.8%.
Finished steel production declined by 0.4%, against 2.1%. Crude oil remained in the negative zone with a 0.5% decline in September, compared with 0.4%. Crude oil production in H1 was -1.25%, compared with 0.8% in the corresponding period last year. Petroleum refinery products slipped to -3.6% from a positive 4.5% in the first six months of last fiscal. Coal production grew 11.6% in the first half of the fiscal, up from 8% in the same period last year.
Electricity generation during April-September grew 6.8%, from 2.6%. However, finished steel production declined by 3% from 3.3%. Cement production grew by 12.3% in the first half of the current financial year vis--vis 5.5% in the same period of 2008.