Indias six core industries, that account for more than 26% of industrial production, clocked a 5% annual growth in May hinting at a robust industrial output for the month. With all the six industries crude oil,petroleum refinery products, coal, electricity, cement and finished steelshowing an expansion for the first time in three months, the growth is becoming broad-based. It raises further concerns on core inflation front.
Core industries have grown by 5.4% in April helping the industrial production as measured by the index of industrial production to clock a record growth of 17.6%. Similar growth in the industrial production in the month of May will give the central bank more head room to raise key rates to tame inflation with out fears of derailing the growth projections. If the industrial production figures stay at the current levels and the economy heats up, core inflationary scenario will worsen pushing the central bank to hike the key policy rates by up to 150 basis points in the current fiscal, Jahangir Aziz of JP Morgan Chase told FE.
Cement and petroleum refinery products where the segments that clocked the fastest annual growth in May. The cement manufacturers association of the country attributed the uptick in production to increased construction and infrastructure works in the resurgent economy. Cement production will be entering a lull period from June that will last till September due to monsoon. But expansion in petroleum refinery products is expected to retain the momentum as the global economic recovery, that is gaining traction, pushes up energy demand globally.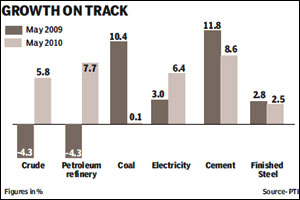 Coal and finished steel production were the laggards among the core industries. Coal production has been showing flat growth in recent months as the countries major miner, Coal India, had been facing difficulties in getting rail wagons to transport coal. Coal India, with mines mostly in central and eastern India, produced 87% of Indias total coal output in last fiscal year.
Meanwhile, analysts are of opinion that the steel production will move up in coming months as the demand remains robust in the economy and private steel makers are looking to ramp up production.