Indias container traffic, on a tonnage basis, is witnessing the first signs of recovery, with an almost 8% year-on-year growth recorded by the major ports in the April-June 2011 period compared to the corresponding period last year. The growth in this segment dwarfs a 2% year-on-year growth witnessed in the January-March period this year, primarily due to the low base impact in April-June 2010. This low base was due to the impact of the global recession that caused trade to shrink and cargo volumes to slump through the most part of last year.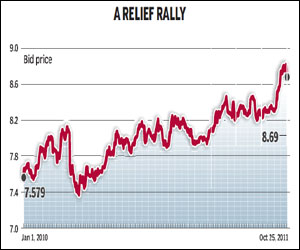 For the quarter (Q1FY12), container volumes (in twenty foot equivalent units or TEUs) across major ports grew 3.2% y-o-y (flattish q-o-q), while JNPT recorded a marginal drop of 0.5% y-o-y (up 2.1% q-o-q) and Chennai volumes grew 10.2% yoy (up 1.3% qoq). While JNPT volume growth is expected to remain lackluster, higher import volumes, coupled with congestion at ports, will continue to aid CFS realisations and margins, Ankur Periwal from Religare Capital Markets wrote in a note.
JNPT, which accounts for 55%-60% of the total container volumes, reported 1085 TEUs as against 1091 TEUs in the same period last year. Chennai port reported an increase of 38 TEUs for April-June 2011.
The IPA data show that India handled 29.8 million tonnes (1948 TEUs) in April-June 2011 period as against 27.6 million tonnes in the same period last year. Logistics and shipping companies are betting big on the container traffic growth in India. According to industry estimates, this segment has the potential to grow at 12-15% CAGR.
The average growth in the decade for the container segment has been about 14%.Containerised cargo growth in India is expected to increase in the coming days, primarily driven by imports, Abhishek Tandon, consultant & research manager. Drewry India, said. In recent years, imports have surpassed export traffic, with substantial share of volume being driven by the Far East Asian trade. JNPT, Mundra, Pipavav and Chennai are the leading ports handling around 81% of India's container traffic. However, the current port capacity for handling containers is not sufficient with capacity utilisation at these four ports close to 85%. Utilisation level above 75% results in berthing delay, congestion and high costs to ship operators & ultimately cargo owner, he said.
Overall port traffic across 12 major ports increased 5.22% to 146 million tonnes with Ennore Port reporting highest (37%) growth in its port traffic. Logistics companies like Concor, Allcargo, GDL, Damco amidst others operate in this segment.