Stock exchanges in the country are competing with one another on the basis of transaction costs and membership charges to attract the maximum number of broker-members who will decide the quantum of liquidity on the respective platforms.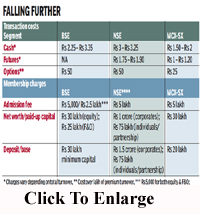 MCX Stock Exchange (MCX-SX) is likely to go live with its equity and debt platform in next couple of months (around Diwali). It has already unveiled its cost structure for membership and also the charges for making every trade on the equity and the derivatives segment.
Quite expectedly, MCX-SX has kept its charges lower than that of the segment leader, the National Stock Exchange (NSE), which has been quick to retaliate by introducing a new category of membership with lower costs.
So while one can trade in the options segment of MCX-SX by paying R25 per lakh of premium turnover, the same would cost R50 on either BSE or NSE. Similarly, trading in cash segment is lighter on the pocket if one opts for MCX-SX that has capped the charges at R2.
BSE and NSE charge a maximum of R3.35 and R3.25, respectively, for trading in their cash segment. The charges for all three exchanges vary depending on the total turnover of a particular member.
On the membership aspect, MCX-SX has kept its admission fee along with deposit and networth requirement less than that of NSE, which has more than 80% market share in the cash segment and near monopoly in the derivatives space.
NSE, however, has come out with a new category of membership called alpha that is aimed at members who only trade on a proprietary basis and not on public funds. The alpha membership will require a deposit of only R20 lakh for cash segment and R25 lakh for F&O and there will be no admission fee.
Though BSE has a very attractive membership fee structure, it has been losing share in the cash segment.