With a huge jump of 32% in Basmati exports last fiscal, the commerce ministry has sought abolition of the minimum export price (MEP) regime for boosting exports. Sources told FE that the ministry's recommendation had been sent to empowered group of ministers (EGoM), which would take it up shortly. In February, an EGoM headed by former finance minister Pranab Mukherjee had lowered MEP for aromatic rice by $200 per tonne to $700 per tonne.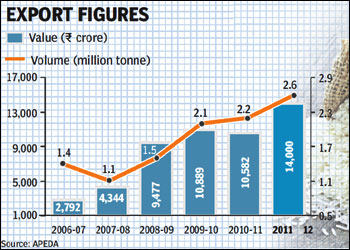 Exporters have been demanding a lower MEP for Basmati as Pakistan, the countrys only competitor in the global market, does not follow any MEP regime. Besides, at present, Indian aromatic and long grain rice is commanding a price in excess of $1,000 per tonne in the global market. The abolition of MEP would help us increase exports in the current fiscal, Mohinder Pal Jindal, president, All-India Rice Exporters Association (AIREA), told FE. He said only 'premium' Basmati is exported from the country and in the absence of an MEP regime, it would be easier for the exporter to be competitive in the market.
Due to the bumper production and increase in demand from the middle-east countries, India's exports of aromatic rice rose by more than 32% to more than R14,000 crore during 2011-12, against R10,582 crore reported in the previous fiscal.
According to Agricultural and Processed Food Products Export Development Authority (APEDA), rice exports to Iran and Saudi Arabia constitute close to 60% of total rice exports. Exporters have been demanding that MEP on Basmati should be abolished as the government does not impose restriction on the exports of the non-basmati rice.
When there is no MEP for non-basmati rice, imposing an MEP is irrelevant and creates hurdles for export growth, RS Seshadri, director, Tilda Rice Land, a leading basmati exporter, had said earlier. During the last two years, international sanctions on Iran have hit Indian basmati exporters. However, with the Indian government agreeing to rupee payment through designated banks, payments from Iran, largest export destination for the Indias aromatic rice, have been increasing slowly.