One of the loosely-used phrases at this time is growth-oriented Budget. When we talk of a growth-oriented Budget, we refer to measures that help to increase GDP growth. Fiscal moves are on the tax and expenditure sides. Going by the Laffer curve hypothesis, tax incentives make individuals work more, which increases GDP and also tax income. This is theoretically sound, but does not work well as labour markets do not let you work as you please. Lower corporate taxes and excise duties are meant to increase industrial production and hence investment. FY13 Budget talks of foregone tax revenue being around R5.25 lakh crore in FY12 on all countsincome, corporate, excise and customs. Clearly, this has not brought about growth. This means tax incentives, by themselves, cannot guarantee growth.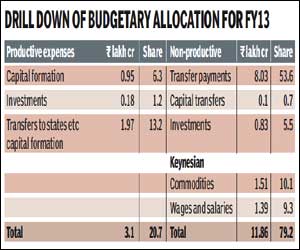 We then look at the expenditure side and make myriad suggestions on where the government should be spending money to inspire growth. To understand whether this can work, we need to look at the less-looked-at documentthe Economic and Functional Classification of the Budgetwhich gives a break-up of expenses of R14.96 lakh crore under various economic heads.
The Budget allocations can be divided into three categoriesproductive, non-productive and Keynesian. The productive ones are those that are in the area of capital formation and include all expenses that are earmarked for such activity. This includes direct expense for capital formation as well as allocations to other bodies for this purpose. The non-productive category includes mainly transfer payments that tinker with the economic cost of a product which is being subsidised by the government. A fuel subsidy only pays someone for the same product and does not create demand. There are also transfer payments to states that are not being used for creating capital but used for consumption. The third is Keynesian expenditure, where the money spent is current in nature that is spent on either buying goods or paying salaries. It is Keynesian because the money will be spent on consumption and hence could create backward linkages. Purchase of commodities works at the secondary level, while salaries work at tertiary stages. In a strict sense, these are still not in the productive area where growth can be generated.
Given this set-up, it can be observed that typically 20% of total outlay would of for capital formation in the area of infrastructure. Here, too, the classification is largely under building and construction where it would be primarily in the road segment. The balance 80% is more or less fixed for the government as they are essential commitments that cannot be compromised during the year. The problem with allocation for capital formation is that it can be reduced as it is fully within government control. Therefore, whenever there is a shortfall in revenue and the deficit is under threat, recourse can be taken to curtailing this expenditure.
There are issues with other components too. More than half of the expenditure is in the form of transfer payments that are in the nature of subsidies and interest payments. These two components take in around 70% of the total transfers, while the balance is given as grants to the states and local authorities which are used for current expenses. These cannot really be cut and would tend to be exceeded at times depending on the governments decision to subsidise specific products or sectors.
The wage bill is, of course, the most interesting component. It accounts for 48% of consumption expenditure. The amount is quite large and can only increase. The ratio of wage bill (including pensions) to total revenue income of the government is around 18% compared with 6.5% (wage bill to sales) for the corporate sector. Clearly, the manpower expenses to maintain the realm is much higher at the government level, which also works with objectives of employment provision. This amount is subject to upward revisions every year even if the quantum of manpower remains static as it is adjusted for increments and dearness allowance as well as periodic revisions as per the Pay Commission recommendations. This amount can be a growth driver provided inflation is low and the staff spends on consumption. With inflation being high, most of this increase would tend to be diverted to food items.
The expenditure on commodities is more on purchases and most of the increase would be due to higher prices being paid for stationery, fuel, office goods, travel and so on. With expenditure cuts in place, this cannot be a growth driver. The curious fact here is that there is almost a one-to-one relationship in consumption expenditure between manpower and commodities and serviceswhich means that roughly all programmes of the government would have labour costs consuming half of the allocation. Therefore, all these rural programmes would witness only a part of the allocation going into non-manpower expenditure.
Where does this leave the Budget in terms of its power to influence growth There is very little room for directly adding to investment, hence growth, given that there is only 20% of the total Budget size that can potentially contribute positively. And this part will be vulnerable and may be truncated if the need arises. Therefore, talking of a growth-oriented Budget is more hype and based on a lot of hope. The reality is that the government can only provide incentives and direction for the rest of the economy. The actual initiative has to come from the private sector. At best, by restricting the fiscal deficit and its borrowing programme, it can put less pressure on the credit market. We, therefore, need to be realistic about our expectations from the Budget from the growth point of view.
The author is chief economist, CARE Ratings. Views are personal