The debate on the relative impact of refarming (full, partial or none) is incomplete without considering the pricing of 900 MHz spectrum. Having 900 MHz spectrum is of course operationally better than having 1800 MHz spectrum given the superior spectral characteristics of 900 MHz. However, from a financial standpoint, higher pricing for 900 MHz spectrum has the potential to negate the value derived from better spectral characteristics.
The final impact for any operator would be equal to the cost of re-farming plus the cost of keeping/buying 900 MHz spectrum. For example, lets say Vodafone faces a choice between (1) letting all its 900 MHz spectrum holding in the Mumbai circle be refarmed and reconfiguring its network completely for the new 1800 MHz spectrum, (2) paying a market-determined price for its 900 MHz spectrum and not letting any of it be refarmed, and (3) letting some of its 900 MHz spectrum be refarmed and buying the restall three options entail a cost.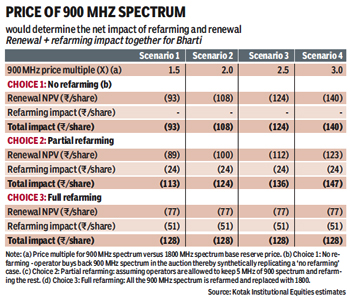 The optimal choice would be a function of the price/MHz of 900 spectrum (versus 1800 MHz) and the reconfiguration costs in the partial or full refarming case. Without knowing the price/MHz of 900 MHz spectrum, it is not possible to take a call on the relative impact of various modes of refarming. If the price of 900 MHz spectrum is too high, letting it all be re-farmed may turn out to be the right option.
The eventual choice would depend on 900 MHz pricing and would be operator-circle combination specific. Even in a full refarming case, incumbents have a choice to bid in the 900 MHz auctions and keep the 900 MHz spectrum. A no refarming case with economically unviable administered/market-discovered price of 900 MHz spectrum could actually be worse than a full re-farming situation. The Bharti example given in the table illustrates the interplay between the refarming mode and 900 MHz pricerenewal payout and refarming impact need to be seen together.
Its difficult to agree with the lack of a level-playing field argument put forth by players that do not have 900 MHz spectrum currently. It is, of course, true that all else (including price/MHz) being equal, 900 MHz spectrum is better than 1800 MHz spectrum. But execution remains criticalwe have seen 900 MHz players (BSNL, MTNL and RCoM in a few circles) lose market share consistently; we also have examples of 1800 MHz players doing well operationally (Uninor, Bharti in a few circles). Pricing of 900 MHz spectrum is critical and while it offers better value from operations as compared to 1800 MHz operations, a higher spectrum capex can negate the advantage completely.
The regulatory argument in favour of 900 MHz spectrum refarming has been that running a 2G GSM network on 900 MHz spectrum is sub-optimal use of the efficient sub-1 GHz spectrum. From a technology standpoint, this is correct. But this is a purely technical argument and fails to take into account the social context of using an efficient spectrum band for a basic network. With more than 95% of subscribers still on 2G networks (60% of who are on 900 MHz networks), 900 MHz spectrum (priced at the same level as 1800 MHz) plays an important role in the viability of the network rollout in low-population-density and low-per-capita regions, and in keeping the cost of mobile telephony low. There is a reason why we have not seen 1800 MHz operators go deeper into rural markets with their networksand thats poor economics.
In a twisted way, a decision to fully refarm 900 MHz spectrum can be equated to the Supreme Courts cancellation of licensesnot in terms of context, but in terms of the fact that it leaves the impacted serious operators with little choice but to participate in any auction conducted to continue operations (or retain 900 MHz spectrum, in the re-farming case), irrespective of the reserve price. Avoiding operational disruption caused by the need to reconfigure networks post-refarming could make current holders of 900 MHz spectrum pay more than the underlying value given that it is not a bottom-up independent decision any more.
Irrespective of the choice operators make, the net impact would be a transfer of consumer and/or operator surplus to the government. Potential disruption of services for a part of the subcriber base for at least some time, increased number of cell sites (which come with a potential increase in diesel use and radiation hazard) and potential sharp increase in tariffs are some additional social costs if the price of 900 MHz spectrum becomes prohibitive.
A bigger worry is what these developments could do to the price-value equation of wireless spectrum in India. Distortion began with the 3G spectrum auctions (operators should take the blame for that); unfortunately, the distorted 3G price-value equation has now become the base, distorting the equation further. Improvements in industry structure and a material increase in industry tariffs/revenue-per-minute levels is critical to restore the price-value equation.
To sum up, spectrum renewal costs and refarming impact should be looked at together, not individually. Essentially, the spectrum renewal payout is dependent on the final decision on refarming. Refarming of 900 MHz spectrum would determine how much 900 and 1800 MHz spectrum an operator pays for at the time of renewal. Even as spectrum refarming entails cost in the form of network reconfiguration and service disruption, the operator that decides not to bid and win back the spectrum being refarmed saves on renewal payouts (as it now pays for the lower-priced 1800 MHz spectrum). The key variable, hence, is the pricing of 900 MHz spectrum. We present a few scenarios for Bharti assuming different levels of 900 MHz pricing (as terms of this being a multiple of the proposed 1800 MHz spectrum base price). The optimal choice in each of these scenarios is different. Look at Scenario 4 in the table, where 900 MHz spectrum is priced at thrice the 1800 MHz spectrum pricein this case, no refarming is worse than full refarming. This analysis has been done on a pan-India basis but the optimal choice could differ in different circles.
The author is senior analyst (Telecom, IT) at Kotak Institutional Equities