A 14% increase in HULs sales in the last quarter along with a 16% hike in its profits15% and 20%, respectively, in the case of ITCand most analysts are talking of how Indias consumption story (led by Bharat, no doubt!) remains intact. A variant of this is the one on investmentsa BP investing $7.2 billion in Reliance or the NHAI giving out R10,000 crore of new projects is seen as evidence of the resilience in the investment story.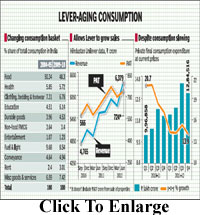 Obviously, any analyst worth her salt has to keep an eye on the changes on the ground, so whats happening to an HUL or a BP-RIL has consequencesin the RIL case, the rise and fall of its KG basin output, for instance, has caused the IIP to both rise and fall! But its important to get some perspective here.
Lets get the investment story out of the way first. Take a look at the Crisil survey of 200 top corporates put out yesterday and the picture it paints is of Indias investment story being in serious troubleafter all, a 35% cut in the investment intentions of India Inc in FY13, even if offset a bit by a 27% hike in PSU Incs investment intentions, is bad news.
But the CMIE numbers, out each month, give you a story of great hope and optimism. CMIE talks of the investments in completed projects rising from R1 lakh crore in 2004-05 to a likely R5.8 lakh crore in 2012-13, the highest ever in Indias history. But since both Crisil and CMIE talk of investments of just R3-5 lakh crore versus Indias total investments of R26 lakh crore, clearly looking at either in isolation is not a great idea.
And given that, at even the currently low investment ratios, Indias investments are still R26 lakh crore, looking at R10,000 crore of road projects or a $7.2 billion BP-RIL dont quite tell you whats happening since theyre a very small proportion of the total. So, lets celebrate each road project, and pop the champagne at the BP-RIL deal, but lets keep an eye on the macro. To give you a sense of whats happening, keep in mind that neither Crisil nor CMIE deal with the investments of the household sector that, believe it or not, accounts for over a third of all investments in the country.
The macro consumption data presents an equally interesting story. As a proportion of total GDP, it looks remarkably constant, but only over a short period of time. So, private final consumption expenditure was 55.8% of GDP at current prices in Q1 FY12; this rose to 57.8% in Q2 and to 58.5% in Q3 (resilience!), before falling to 52.5% in Q4. But go back a bit further and you see that, in Q2FY11, this share was 59%wheres the resilience now Go back to 2004-05, and you see this share was also 59% for the full year. In other words, even as a share of Indias GDP, there has been a dramatic fall in overall private consumption in the last one year.
In terms of the actual values, consumption fell from R13.5 lakh crore in Q3FY12 to R12.8 lakh crore in Q4 and if youre a year-on-year type, it barely crawled from R11.3 lakh crore in Q4FY11 to R12.8 lakh crore in Q4FY12thats 13.8% in nominal terms but just 6.1% in real terms. Nothing compared to the 20.8% growth in nominal terms seen in Q2FY11, and the 8.9% in constant prices (see graph).
Apart from the fact that HUL sales need to be situated in the context of Indias overall consumption data, look at the dramatic shift in consumption patterns over the years and you understand another critical part of the Indian consumption story. Food is down from 50.3% of the expenditure basket in 2004-05 (and this was over 70% a few decades ago) to 48.3% in 2009-10given the size of todays consumption basket, that alone is R99,000 crorethis means FMCG, or other firms, could see their sales rise by a whopping R80,000 crore, but overall consumption would still be lower by R19,000 crore! Expenditure on clothing/bedding/footwear, similarly, is down from 7.3% to 6.8% between 2004-05 and 2009-10. Once again, this offers increased scope for an HUL to even double or triple its sales without the overall numbers looking any different. Keep that in mind next time you see a story, or even this column, making grand projections based on an HUL, an ITC or a BP.
sunil.jain@expressindia.com