There is a lot of (noisy) talk about too high expectations from the Budget, and about how there is bound to be severe disappointment because of inconsistent and high hopes. It appears as if the old-fashioned economists and analysts want to be the first to say I told you so. Often, among forecasters, there is a tendency to go against the herd for the big story. If you get it wrong, you are lost in the din; if you get it right, you are a hero, at least till the next big mistake.
I disagree with this forced pessimism. Realistically, the bountiful mistakes of the Sonia Gandhi-led UPA has provided the BJP with an ideal platform for a win-win, relatively painless budget. A budget in which it is possible, and extremely feasible, that taxes are reduced, subsidies are reduced, the fiscal deficit is reduced, and the bottom half of the population is substantially better off.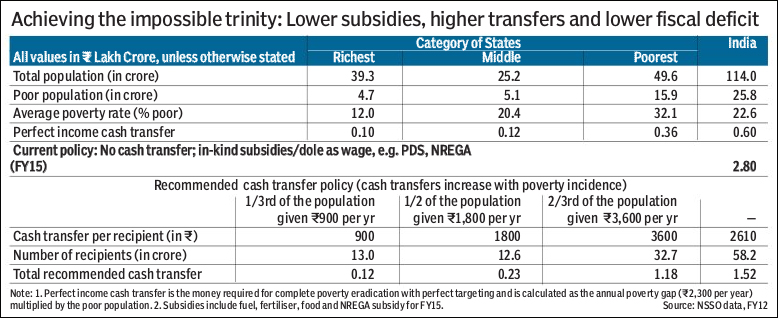 How can this impossible trinity be achieved The policy answer is straightforward. Perhaps the biggest impetus to a new enlightened policy has come from Prime Minister Narendra Modis
support for the Congress initiative of Aadhaar. History will judge Aadhaar to be the best policy introduced by the
Congress in the last 10 years.
It is Aadhaar which will make possible a major change in how India conducts its anti-poverty policies, i.e., it makes possible a large shift to cash-transfers as the form of income redistribution. Aadhaar can substantially reduce leakages in redistribution due to faulty targeting. Much improved identification of the beneficiaries can reduce costs and increase benefits. At present, the multitude of public transfer schemes (e.g. public distribution system (PDS) for foodgrains, NREGA food for work programme, LPG cylinders at subsidised rates to the middle class, etc) rely on spreading the net wide, involving tons of middle-men and bureaucrats, and praying to an equal multitude of gods that somehow a large fraction of the intended beneficiaries will be caught in the net. The reality, as study after study has revealed, is doubly distressingthe system ensures that a large fraction of the poor escape the net, and those that are lucky, receive precious little of the benefits. As documented by many, and for many policies, the poor rarely receive more than 15 paise of every rupee meant for them.
Even though the technology of Aadhaar is of very recent vintage, cash transfers have been prevalent in most parts of the developing world for the better part of the last decade. Why have cash-transfers not been popularly accepted in India One important reason is the outdated mind-set of Indian poverty intellectualsthink Sonias National Advisory Council (NAC).
Briefly, these NAC interventionists believe that they know better, and have a paternalistic main hoon na approach to the poor. These policy-makers believe in a direct approach rather than the impersonal approach of cash transfers. And a large part of their understanding stems from the belief that the poor, and especially poor men, are good for nothing sorts who will fritter away any extra cash transfer money on liquor. This belief is so deep-seated that even in an alcohol-banned country like Pakistan, the cash transfer programme is mandated to give money only to the women in the household!
How accurate are these biases and prejudices against poor men One of Indias leading economists, Raj Krishna, coined the evocative phrase that Indian politicians and policy makers (and he very likely was also targeting Indias left-intellectuals) were "knowledge-proof". This phrase was coined some 40 years ago, but shockingly, still holds true today. In other words, no matter how much of contrary evidence is provided, the left-policy intellectuals will continue to see the world with eyes wide shut.
A damning bit of evidence confirms the presence of knowledge-proof bias in India. According to the FY12 NSSO data on consumption expenditures (and for NSSO data for the last thirty years), liquor consumption is unaffected by presence or absence of food subsidies. According to the FY12 survey, there were 250 million Tendulkar poor, out of which just a little more than half, 130 million, received some form of food (rice, wheat or sugar) at subsidised (PDS) prices, with the remaining 120 million receiving no food benefits from the state.
The average food subsidy, for the poor who were lucky to receive it, was around R45 per person per month; and the average liquor (pan, tobacco and intoxicants) consumption in these households was R18 per person per month. However, for poor households without food subsidy, the liquor consumption declined by a statistically insignificant R3 per person per month. In other words, the poor did not change their liquor behavior at all once given a transfer of about 6% of their total consumption (R45 out of R700).
In the name of this insignificant increase, India has followed poverty reduction policies where the premium is on benefitting the middle man. In the UPAs interim budget for FY15 budget, R2.80 lakh crore were budgeted to reduce poverty via programmes like NREGA, PDS, kerosene, LPG, fertiliser and diesel subsidies.
What kind of results can be accepted with an Aadhaar-facilitated cash-transfer scheme The accompanying table provides some suggestive calculations. Going by the principle that the poorer population should receive larger transfers, Indian states have been divided into three categories; the richest states have an average Tendulkar poverty rate of 12%, and the poorest states have an average poverty rate of 32%. At FY15 prices, perfect but impossible targeting would entail a cost of R60,000 crore or approximately 0.5% of the GDP. At present, the government is spending R2.8 lakh crore, almost five times the amount needed.
Both with leakage and extra income to the poor (and many non-poor), it is possible to make the poor considerably better off, with the average poor person receiving R2,600 a year. The number of poor who can receive this average cash transfer is half the Indian population!
Total cost of the cash transfer package, including administration costs: approximately R1.6 lakh crore. This will entail a saving of R1.2 lakh crore from the budgeted R2.8 lakh crore. If the government were to remove tax surcharges, education cesses, and other tax nonsense like the Corporate Social Responsibility provision of the new Companies Act, etc, it would lose about R60,000 crore in tax revenues. So, the recommended combination of cash transfers for the poor and lower taxes for the middle-class and the rich would result in a net saving to the budget of R1 lakh crore or 1 % of GDP.
All this cannot happen in the remainder of this fiscal year. But the government can set the roadmap, and start travelling in a non-Congress direction. If this cannot happen, you have to tell me why. You have to tell me who loses with the above cash transfer recommendations. Or that I am mad to expect non-ideological rationality. But you cannot claim both.
The author is chairman, Oxus Investments, an emerging market
advisory firm, and a senior advisor to Zyfin, a leading financial information company. Twitter: @surjitbhalla