Software services firm Cognizant, which has most of its employees based in India, has posted revenues of $1.89 billion in the September quarter, up 18.2% year-on-year, on back of improved performances in consulting, IT infrastructure services and BPO. The company recorded a 22% jump in profit to $277 million against $227 million a year ago.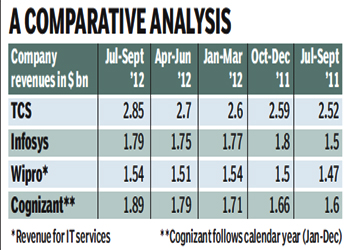 In the process, Cognizant extended its revenue lead over Infosys, which clocked revenues of $1.79 billion in the September quarter. However, its profit was no match for Infosys that delivered a net profit of $431 million in Q2, a year-on-year growth of 4.9%. Sequentially, profit for the quarter grew 10% for Cognizant while revenue grew 5.4%. Infosys revenues, on the other hand, grew 2.6% for the quarter in dollar terms sequentially.
Cognizant said it expects full-year adjusted earnings of at least $3.42 per share on a GAAP basis, and $3.69 on a non-GAAP basis, which excludes estimated stock-based compensation expense. It also reaffirmed its revenue forecast of at least $7.34 billion for the year, up 20% from the year-ago period. For the December quarter, it expects revenue to be at least $1.94 billion.
During the June quarter, Infosys went on to slash its annual forecast to a meagre 5% from an 8-10% guided earlier. For the fiscal year ending March 2013, Infosys sees revenues in dollar terms to be at least $7.343 billion.
Francisco D?Souza, CEO, Cognizant, said, ?Our consulting-led approach, intimate client relationships, deep domain knowledge and robust execution give us the confidence to deliver revenue growth of at least 20% in 2012.?
?Cognizant?s strong results reaffirm the acceptance of our value proposition that helps clients address the dual mandate of driving efficiency and effectiveness in their core business while investing in innovation and business transformation for long-term growth,? said D?Souza.
While most of its software operations are in India, Cognizant is headquartered in Teaneck, New Jersey. Hence, it is able to leverage the low-cost benefits provided by India, and still retain an edge over its Indian rivals by branding itself as an American company while pitching for contracts in the US. The $100-billion Indian software industry still gets 60% of its revenues from the US. In the last five years, Cognizant grew its revenue from $1.4 billion to over $7 billion.