IT services firm Cognizant Technology Solutions is on the prowl and the country's largest BPO could be on its radar. According to industry sources, the company has been doing due diligence of BPO leader Genpact to acquire a controlling stake for close to a month. If Cognizant ends up acquiring Genpact, it would be one of the largest technology deals in India, redefining the pecking order in India?s IT industry. The Cognizant-Genpact combine could possibly knock off Infosys Technologies from its No.2 position in the industry, or come within striking distance.
?Cognizant is carrying out its due diligence of Genpact. The process started a few weeks ago,? sources aware of the development told FE. ?Investors in Genpact may be looking for a 30% premium over its market value,? they said.
BPO constitutes about 5% of Cognizant?s revenues and the firm is aggressively looking to plug the gap in its services portfolio. Genpact was in talks with Infosys as well, but the conservative blue chip had reservations on the high valuations as well as the impact on its margins, sources said. Genpact's margins are way below Infy's corporate average.
Listed on the New York Stock Exchange, Genpact had revenues of $1.12 billion in 2009 and has a market capitalisation of $3.50 billion. Cognizant, listed on Nasdaq, had revenues of $3.28 billion in 2009 and has issued guidance for $4.46 billion this year. When added to the upper end of Genpact?s forecast of 17% growth in 2010, the combination would yield $5.77 billion in top line. This would be within striking distance of Infosys? projected revenues of $5.81 billion in FY11. However, industry analysts are unsure unsure how Cognizant could finance the expensive purchase or how much stake it would eye. The firm has $1.40 billion in cash. When contacted, both Cognizant and Genpact said they don?t comment on market speculation.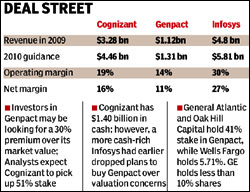 Genpact was founded in 1997 as an India-based captive business process services operation for General Electric Capital Corporation. It began operating as an independent company in 2004, and debuted on NYSE in 2007. GE?s shareholding in the company has now declined to 19.95 million shares or 9.14% after the firm divested its shares in a secondary offering completed in March this year. General Atlantic and Oak Hill Capital hold 89.57 million shares or 41%, while Wells Fargo holds 12.46 million shares or 5.71%.
An analyst said Cognizant could be eying 51% stake to begin with. ?It would be a perfect acquisition. Both firms are process-driven.
While Cognizant desperately needs BPO capability, there may not be a future for standalone BPOs in the future,? he said. BPO is fast becoming a differentiator and an entry point to cross-selling other IT services.
The sector has seen a gush of interest after the recession as enterprises across the world rushed to save costs.