Prices of coarse grain, without the minimum support price (MSP) cover, have risen faster than those of key grain during 2008-2012. During intervals between two crop seasons, farmers who cultivate coarse grain like jowar (sorghum), maize (corn), ragi (finger millet) and bajra (pearl millet) saw their income rise sharply in these years yet another reason why rural income growth is outpacing the urban one and why the population is increasingly resilient to persistent high inflation.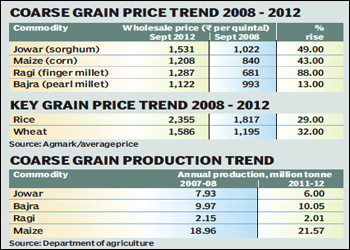 An analysis of wholesale prices of coarse grain reveals that prices of jowar, maize and ragi have risen by 49%, 43% and 88%, respectively, during 2008-2012. Over the same period, prices of wheat and rice rose by 32% and 29%, respectively.
Coarse grain are grown mostly in dry and rainfed regions of Rajasthan, Madhya Pradesh, Karnataka and Andhra Pradesh. While the government procures rice and wheat from farmers by providing minimum support price (MSP) through the Food Corporation of India and state government-owned agencies, in the case of coarse grain only jowar gets MSP coverage.
Agricultural experts say coarse grain prices have been rising as their perceived health benefits drive demand. Attractive prices are pushing farmers to take up these crops more aggressively.
Food companies like Pepsi, Britannia and ITC have started procuring these coarse grain as multi-grain diets catch up fast with health-conscious urban consumers.
Ragi has seen the highest jump in prices during last five years as demand for the calcium-rich grain, which also helps lower cholestrol levels, has shot up, mostly in southern India.
Bajra, which is historically part of the diet in Rajasthan, has also seen a moderate rise in the last five years. However, in Rajasthan, bajra prices have risen by more than 68% during same period. Bajra consumption is rising steadily elsewhere too, as it contains high amounts of proteins and iron.
Industry sources said attractive returns have lured even cotton farmers in Punjab to try these commodities.
The government must include distribution of coarse grain to poor families under the proposed food security Bill for providing nutritional security to large masses of people, Ajay Vir Jakhar, chairman, Bharat Krishak Samaj, told FE. Jakhar said the move to include coarse grain under food security legislation would help the government in procurement of grain which are locally available.
The government had been focusing on procuring wheat, rice and sugarcane from the 1970s, resulting in a surge in their production. In the absence of MSP for most coarse grain, their area under cultivation had been static.
Greater production of coarse grain could provide wider nutritional security, resulting in higher farm income, PK Joshi, director (South Asia), International Food Policy Research Institute, told FE.
Agricultural scientists say greater price realisation for coarse grain would also help farmers to diversify coarse grain, which requires less water compared with crops like rice and wheat.