State-run Coal India Ltd (CIL) is ready to spend Rs 26,006.68 crore for additional coal production of 308.94 million tonne per year through 134 projects across the country in the 11th Plan. So far 65 projects, with production capacity of 155.42 million tonne per year on an investment of Rs 8,593.80 crore, have been approved by the Centre, while another 69 projects with the production capacity of 153.52 million tonne per year envisaging an investment of Rs 17,412.88 crore is yet to be approved.
Coal India director (technical) NC Jha, told FE, "The proposed investment is necessary to ramp up coal production. According to the government data, coal demand by end of the 11th Plan is projected at 731.10 million tonne, while 1,125 million tonne by end of the 12th Plan." Though demand by end of the 11th Plan is of 731 million tonne, the total availability will be only 680 million tonne leaving a gap of 51 million tonne. "By the end of 11th Plan, CIL is expected to supply 520.50 million tonne, Singareni Collieries Company Ltd (SCCL) will produce 40.80 million tonne and 118.70 million tonne by others. For the 12th Plan 664 million tonne will be produced by Coal India, 45 million tonne by SCCL and 346 million tonne by others leaving a gap of 70 million tonne," Jha said.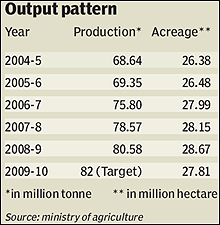 He added there would be a net coal balance of -133.56 million tonne by the end of the 11th Plan as Coal India's production would be 520.50 million tonne against the total coal need of 654.06 million tonne. In case of 12th plan, the net coal balance would be -117.52 million tonne by the end of the 12th Plan as coal production would be 664 million tonne against the requirement of 781.52 million tonne. He said Coal India has intensified exploration to prove further coal reserves, infuse appropriate technology for exploration, under ground mining, coal benefication and safety. Coal India is pursuing the acquisition of coal resources abroad through participation in JV of public sector undertakings for formation of special purpose vehicle.