At a time when shipping firms are shying from expansion plans, Union shipping ministry is eyeing a new shipyard in the countrys southern outpost, near the upcoming Vizhinjam deepsea port.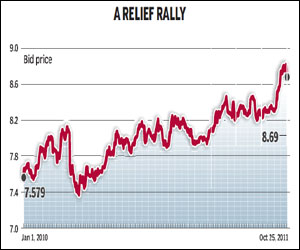 If the Kerala government is willing to facilitate land and other infrastructure, the Centre is game to support any initiative to set up Vizhinjam shipyard, according to Union shipping secretary K Mohandas.
The factor that make Vizhinjam an attractive seaport locale sea depth and strategic locationare also valid for a shipbuilding facility, Mohandas told FE.
The coastal shipping policy in the pipeline favours promotion of shipbuilding industry, probably even giving it the much-sought-for special economic zone status.
Kerala government is all for hosting a second shipbuilding yard, after the Cochin Shipyard. However, local consensus for land acquisition needs time and patience to build up, says K Babu, State Ports Minister. The Kerala government has recently worked out an attractive compensation package for those evicted for developmental projects.
India has been sharpening its shipbuilding policy to make it a $20-billion industry by 2020. The proposal for another shipyard should be pursued on a scale and size matching the potential of the location, said Mohandas, arguing that the capabilities were growing at a big pace.
He quoted the recent instance of Cochin Shipyards (CSL) bollard pull test facility for ships at Vizhinjam which, at 500 tonne, has outstripped the countrys highest installed capacity of 250 tonne.
The sunny side of the shipbuilding sector has been the International Maritime Organisations (IMO) policy directive to phase out all single hull tankers on environmental reasons.
This created a surge in demand for replacement ships, prompting private investors, including Mukesh Ambani-owned Reliance, to pump money into shipbuilding.
ABG Shipyard, the countrys largest shipbuilder, has formed a joint venture for a shipbuilding yard in Nigeria. Steelcast has been working on a R100-crore greenfield shipbuilding facility at Bhavanagar. Last week, Larsen & Toubro (L&T) has been picked up as preferred partner for Hindustan Shipyards expansion.
At the same time, Indian shipbuilders are reliant on foreign firms for as much as 70-80% of their business. Given the current slowdown in Western economies, the order books of shipbuilding firms are not exactly bursting at the seams. Because of the huge debt component, shipping firms are alert to the credit crisis, tightbelting their expansion plans.
Even Indian PSUs like Shipping Corporation of India have shelved fleet expansion plans, sniffing that the party-time is over.
It would look like a bleak moment to talk of shipbuilding capacities, but compared to the high labour costs in the main shipbuilding markets like Korea and Japan, Indian shipbuilding enjoys a cost-advantage, without missing out on quality, says K Muthu Vel, a shipping industry analyst.
Although India has installed capacities to build huge ships, the industry is remaining buoyant in adverse times by a strategy of focussing on building small and medium-size vessels. According to analysts, the ship-making orders are likely to pick up in about five years, making it the right time to plan and build new shipyards.
Vizhinjam, aglow with the prospects of its R5,348-crore seaport project back in maritime radar, is yet to react warmly to the Centres shipyard proposal, which could come as an added bonanza for the local economy.
Closeness to international shipping routes and low dredging costs have made this tourist spot a favourite locale with shipping industry planners. But then, land acquisition is a sensitive issue in a thickly populated coastal area says state minister K Babu.
Building consensus on this score is not as easy as building a ship, he quips, in a lighter vein.
Much would also depend on the excitement that the Kerala governments land acquistion compensation package can whip up.