As rubber prices soared to Rs 180 per kg, even land, which is not traditionally best suited for rubber is getting converted in Kerala, thus shrinking the area under paddy cultivation.
To stop diversion of paddy area towards rubber farms, the Kerala government has decided to implement a Rs 2,111-crore central package for paddy development in Kuttanad district, major producer of rice in the state.
Procurement price of paddy is now as high as Rs 12 per kg. This would be further enhanced, as Kuttanad package takes shape, state agriculture minister Mullakkara Ratnakaran told FE.
Although we have managed to reverse the declining trend in paddy production this year, more confident measures are in the pipeline, he said.
Kerala, which accounts for more than 90% of countrys natural rubber, has seen incomes rising sharply from rubber cultivation even as paddy margins thinned.
At 1,514 kg per hectare, natural rubber productivity in Kerala is among the worlds highest. Naturally, rubber area has doubled to 4,94,400 hectares in 25 years, state Planning Board figures showed.
The low-lying Kuttanad, in itself, is hardly recommended for rubber cultivation. But area under rubber has been steadily moving up in non-traditional areas like Wayanad valley after prices jumped putting pressure on area under paddy in Kerala.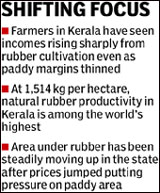 In Kuttanad, real estate development because of backwater tourism also threatened paddy cultivation. Even after the state passed a new act for paddy land conservation in 2008, illegal conversion of paddy land continues in villages like Niranam, Kadapra and Nedumpram in Kuttanad.
Earlier this week, the state government started implementing the Rs 1,840-crore Centre component of the project. It announced a string of projects to deal with flood threats in Kuttanad district.
Union water resources minister Pawan Kumar Bansal has said that Centres flood management scheme would meet 75% of irrigation funding and the state should meet the rest. Chennai IIT has agreed to provide technical expertise for modernisation of Thannirmukkam barrage and Thottapilli spillway.
Area under paddy in Kerala has dropped by 22,000 hectares, 13,000 hectares and 10,000 hectares respectively during the during Eighth, Ninth and Tenth Plan periods.
After Kerala offered insurance and price-enhancement for paddy, the area under paddy cultivation improved marginally to 2.34 lakh hectares in 2009-2010 from 2.29 lakh hectares in 2008-2009.
At the same time, rubber area coverage in the State has been increasing by by almost 5,430 hectares annually.
Rubber demand overdrive is such that new area under rubber has grown four-fold from just 7,000 hectares in 2003 to 27,000 hectares. However, experts believe that though Kerala and the Centre are trying to boost area under paddy through the Kuttanad package, the battle for space between food crop and cash crops is likely to hot up.