With the insurance regulator clamping down on commissions for unit-linked insurance products (Ulips), the number of life insurance policies sold last year dropped to 4.41 crore from a record 5.32 crore in 2009-10. With the industry in the doldrums, both the state-owned Life Insurance Corporation of India (LIC) and the 23 private life insurers had little option but to drastically cut back on their agent networks; at last count, some 5.4 lakh agents have been out of business since 2009-10.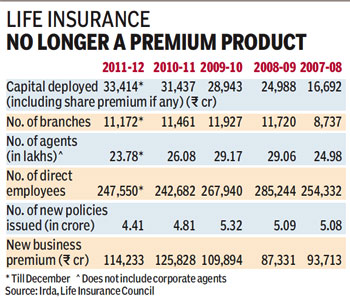 Life insurers have also needed to prune their own sales and distribution teams and as a consequence the number of direct employees at these firms is lower by about 20,000. The effort to rein in costs has seen more than 800 branches, mostly in tier-II and tier-III cities, being shut down. In 2011-12, premiums collected by the industry fell 9.2% to R1,14,233 crore.
While it may appear that there has been a reversal in premium collections, its because the 1.4% uptick in first year premium collections in April and May, at Rs 12,428.9 crore, has been driven by group single premiums, which rose over 70% year-on-year. However, the number of policies has fallen to 40.47 from 43.24 lakh in the April-May 2011 period. LIC reported a marginal decline in premium collections at Rs 9,215 crore, with policy issuance down nearly 4%. The worst sufferers were private sector life insurers, where the number of policies was down nearly 15%.
It was in September 2010 that the IRDA (Insurance Regulatory and Development Authority) capped commissions for ULIPs after a tussle with the Securities and Exchange Board of India (Sebi), which had rightly pointed out that ULIPs were no different from mutual fund products and therefore, needed to be treated in a similar manner. No doubt, as Kotak Mahindra Old Mutual Life executive vice-president Suresh Agarwal points out, the slowing economy has compounded the problem. As a result, our distribution channels have shrunk and the conversions per agent are falling impacting our margins, Agarwal observes. But its the smaller commissions that have really hurt the industry.
Prior to September 2010, agents were making as much as 40% of the first-year premium as commission, which has been slashed to 7% of the premium in the first year and 5% for the second and third years. In contrast, the entry load for mutual funds was just 2.25% and that too was banned in August 2009. ULIPs, which accounted for over 80% of the policies sold before September 2010, now account for less than 30%. IRDA also insists that agents retain 50% of their business in the second year in order to be able to earn trail commissions.
Currently, for non-linked life insurance policies agents earn commissions of about 40% on the premium paid in the first year. The regulator's new draft guidelines for non-linked policies indicate commissions could be graded depending on the maturity of the policy. For instance, for a policy of 5-9 years, the commission could be capped at 14% for the first year, 5% in the second and third years and 5% for subsequent years.