Mergers & acquisitions (M&As)--including cross-border and overseas dealsthat pose little threat to domestic competition will receive timely and unhindered approval from the competition regulator, even if the deal sizes cross thresholds for mandatory prior scrutiny. However, the regulator will still require prior notification of all such M&As.
In draft regulations to be released soon, the Competition Commission of India (CCI) will list M&A deals that technically meet the asset/turnover criteria in law for regulatory scan, but can be put on the fast-track as they potentially do not impair competition. They include share splists and family succession. The relaxation would come as a relief to corporate India, which feared their M&A activities would be crippled by CCIs overarching powers.
Under the new regulations, most M&As would fall in a category where the approval is not only faster (within 30 days), but also near certain. Official sources said up to 90% of M&As coming before the CCI belong to this category. Of course, parties to these M&As would still make the customary pre-deal filing with CCI, but only as a formality, the sources added. Also likely is the introduction of pre-notification consultations with the CCI on planned deals to ensure that innocuous M&As are not held up later.
Family succession, share splits and the like, which are M&As only technically, would be granted fast-track automatic approval. In a share split, a shareholder acquires more shares, but does not change his original proportional participating interest in the company and, hence, acquires no additional control.
The new regulations would also fast-track acquisitions of marginal ownership by a company that itself meets Competition Act criteria of asset/ turnover in India (Rs 1,000 crore/Rs 3,000 crore) for a combined entity to seek CCI approval.
So, if ONGC or LIC acquires a tiny stake in a company in the course of normal stock trading, CCI would not ask any questions.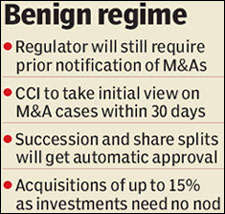 The same policy would apply to a group buying a share in a company outside it, where the thresholds are four times higher.
The CCIs draft regulations would list all possible M&As that have no appreciable adverse effect on competition, the sources said. The new regulations would stick to the asset/turnover criteria for Indian or foreign companies, groups and individuals party to M&As. However, the control and management criteria specified in the Act would be further described through the regulations.
Any company/person seeking to acquire more than 15% stake or more in another company as an investment or in the ordinary course of business would need to seek CCI approval. The threshold, sources said, would ensure that the regulator vets all cases where a shareholder would have voting rights/control. Markets regulator Sebi has also kept 15% as a key threshold in its Takeover Code.
Only in those cases where further investigation is required, time taken for final view would be longer than 30 days.
CCI would also rationalise the fee structure for M&A approvals. A graded structure would be introduced whereby parties in smaller acquisitions need pay only a lower fee.
CCI regulations are a precursor to the government notifying Section 5 and 6 of the Competition Act, which deal with combinations and their ability to damage competition in given geographical and product markets.