Whatever little help the Reserve Bank of Indias quarter-point reduction in the policy rate gives in boosting investment will be reinforced as the government prepares to clear the logjam over scores of power, steel and oil sector projects at the maiden meeting of the Cabinet Committee on Investment (CCI) on Wednesday. According to official sources, the panel, led by Prime Minister Manmohan Singh, which enjoys supremacy over individual ministries, is set to give one-stop approvals for many of the 25 big power projects stuck for want of environmental clearances/fuel linkage at its first meeting. These include projects of Adani Power, Tata Power, the Jaypee Group, DB Power and Indiabulls, among others. The 25 held-up power projects have a combined bank exposure of over R1,25,000 crore. Major headway is also expected in addressing the issue of the no-go tag assigned by the defence ministry to 14 offshore oil and gas blocks including the Reliance Industries-BP combines KG-D6 field and the gas discovery area NEC-25.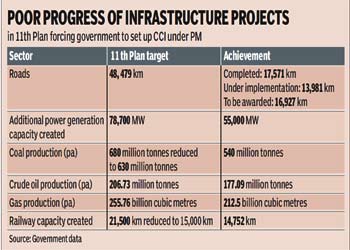 In all, the ministry had withdrawn/withheld clearances for 46 oil and gas blocks. Together, an investment of $13.5 billion is envisaged in these blocks by a host of companies such as Reliance, ONGC, BHP Billiton and Cairn Energy.
A mega steel plant in the private sector that has attained financial closure could also be taken up for discussion by the committee, sources said.
As for individual cases, the CCI may look at the five of Adani Powers held-up projects in which State Bank of India (SBI) is said to have a large exposure. Projects of Jaypee Power, DB Power and Indiabulls also figure in the list of projects before the CCI, a senior official said.
Sources said among the five projects of Adani Power the 4,620 MW Mundra power project, 3,300 MW Tiroda project, the Gondia project in Maharashtra and the 1,320 MW Kawai project in Rajasthan may get an early look as SBI has a combined exposure of R30,000 crore in these projects.
CCI is also expected to take up three power projects where ICICI Bank is said to have an exposure of about Rs 14,000 crore. These include projects of DB Power and Indiabulls. Four other projects where Axis Bank has lend over Rs 10,000 crore may also be taken up for faster decision making, sources said.
The effort would be to give direction to a host of delayed projects at the first meeting of the CCI so that investor interest is maintained in the countrys infrastructure sector, said a government official privy to the development.
The CCI is also expected to evaluate objections raised by the air force and navy on RILs KG-D6 block and gas discovery area NEC-25, and also look at ways to clear exploration projects of ONGC and BHP Billiton that have received a no go tag from the defence ministry, sources said.
However, the committee is likely to leave the decision to fast-track clearance for a host of road sector projects for a future meeting. As many as 39 road projects worth over $ 4.5 billion are stuck due to pending environmental and forest clearances and issues related to land acquisition. The road ministry has already sent a list of about 15 projects worth over Rs 1,000 crore projects to the CCI for faster decisions.
In most of the power projects, fuel-related issues have delayed projects. While parallel efforts are on at the ministry level to address the issues, the PM-led committees intervention has been called to prevent any further delays, said the official quoted earlier.
The committee has been set up to oversee approvals in sectors such as energy, railways, roads and highways, airports, telecommunications, information technology, irrigation, housing and urban development. Though initially the committee was proposed to play a more proactive role by taking over the work of a ministry found in default in giving clearances, it would now play the role of a facilitator, bringing all government bodies on a single platform to resolve issues faster.