With the central government authorising the Marine Exports Product Development Authority (MPEDA) as the agency responsible for issuing catch certificates for fishing in the Indian coast from January 2010, the agency has made all possible arrangements to issue these certificates with minimum difficulty to fishermen.
This measure has come in response to the European Union (EU) insisting on catch certificates for all fish materials imported into the region from January 2010, in an attempt to curb illegal, unreported and unregulated fishing (IUU).
European Union is the largest market for Indian seafood accounting for 25% of the volume and 33% of the total value of exports.
Implementing traceability and issuing catch certificate calls for identification of fishing region, time of catch and the fishing boat and the harbour where the fish was landed.
Illegal fishing takes place where vessels operate in violation of the laws of a nation or a regional grouping.
Unreported fishing that has been unreported or misreported to the relevant national authority or regional organisation, in contravention of applicable laws and regulations.
Unregulated fishing generally refers to fishing by vessels without nationality, or vessels flying the flag of a country not party to the regional organisation governing that fishing area or species.
Most obviously, pirate fishers have a strong economic incentive. Many species of fish, particularly those which have been over-exploited and are thus in short supply fetch high value.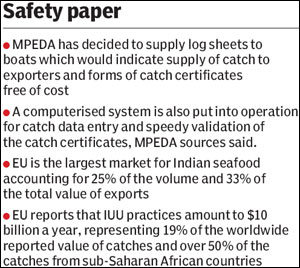 EU reports that IUU practices amount to $10 billion a year, representing 19% of the worldwide reported value of catches and over 50% of the catches from sub-Saharan African countries.
IUU fishing also represents a major hazard to the marine environment, the sustainability of fish stocks and marine biodiversity.
MPEDA has already made arrangements to monitor catch directly and through agents and to validate the catch certificates.
To start with, MPEDA has decided to supply log sheets to boats which would indicate supply of catch to exporters and forms of catch certificates free of cost.
A computer system is also put into operation for catch data entry and speedy validation of the catch certificates, MPEDA sources said.
Boat operators are requested to submit the log sheet with relevant details to data entry operator at fishing harbour or at the nearest fishing harbour within 72 hours of unloading the catch.
However, some exporters are worried that the implementation of the EU norms might develop as a non-tariff barrier on Indian seafood.
Fish workers are worried that it would compound their misery as the system would give rise to corruption and undue harassment.
Some experts feel that it would be impossible to implement this among country-crafts, which are lakh in number and dock with their catches anywhere along the coastline.