Domestic car sales rose in May with a 3% y-o-y growth to 1.48 lakh units, reversing the slowdown of the last two years. Industry experts are optimistic that the next few months will see stronger growth as consumer sentiments improve due to confidence in the new government stable policies.
Vishnu Mathur, the director general of the Society of Indian Automobile Manufacturers (SIAM), said that car sales have largely been down since August 2012. In the past two years, there were minor jumps in October 2012, August 2013 and September 2013, but these should not be highlighted because they were either because of festive season demand in a single month, or like in August-September 2013 when Maruti Suzuki's low base effect made the growth numbers seem high, Mathur said.
The market has been improving, enquiry levels at dealerships are up and we expect it to continue as long as nothing happens to disturb the good sentiments. The impact of the excise duty cut in February has also been absorbed now. However, let's not celebrate yet, the base had been low because of which we see the growth in May, He added.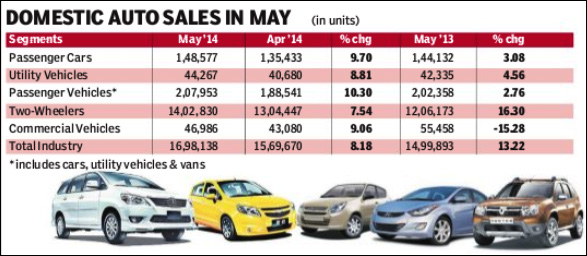 In May, overall passenger vehicle (includes cars, utility vehicles & vans) volumes went up almost 3% to 2.07 lakh units, with utility vehicles sales rising 4.56% to 44,267 units. Market leader Maruti Suzuki saw a strong 16% growth, while rival Hyundai sales sales rose 13%. Honda and Toyota each recorded 18% growth, Mahindra and Tata saw 21% and 29% fall in the PV volumes, respectively.
For the two-wheeler makers, who have seen a steady growth in the past few months, May was a better month on the back of a 16% jump in volumes to 14.02 lakh units. Scooters raced ahead with 34% higher sales to 3.57 lakh units, while bike sales were up almost 12% to 9.84 lakh units. Hero MotoCorp saw May volumes rise almost 8%, while Honda recorded 55% higher volumes. Bajaj, however, saw its two-wheeler sales dip 17%.
There is no immediate worry for two-wheelers, though we need to keep an eye on the monsoons. Since rural demand plays a big role, deficient monsoons could be a threat later, Mathur said.
The commercial vehicle (CV) segment continued to under-perform in May as it was the only segment overall to show a decline a 15% fall to 46,986 units. What is positive, however, is that this rate of decline has been moderating over the past few months, while freight rates have started edging up. Tata Motors' CV volumes fell 21%, Mahindra was down almost 8%, and Ashok Leyland fell by 13% in the month.