'Many therapies, especially the ?zumabs? ? a type of cancer drug ? are being launched'
Sales of cancer drugs grew fastest among all therapeutic categories in CY2013 with the availability of several new therapies helping to increase awareness and purchases. Cancer drugs, also known as anti-neoplastics, registered a growth of 24.1% in CY13 to R998 crore but analysts believe the market remains under-penetrated. Pharma sales across the 19 therapies that constitute the market, however, grew at just 6% in CY2013, well below the 14% rise in CY2012 as the combination of a higher base and adverse policies impacted business.
Hari Natarajan, vice-president, business intelligence at AIOCD Pharmasofttech AWACS, said the market for cancer medication had expanded while biosimilars were gaining ground.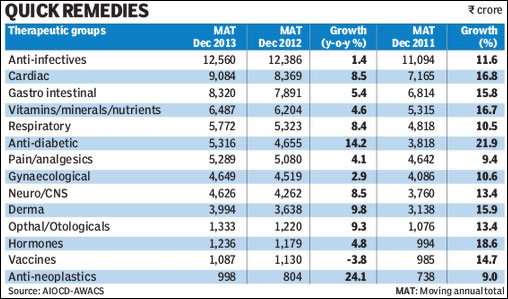 Many therapies, especially the zumabs a type of cancer drug are being launched, Natarajan pointed out adding that while biosimilars are a relatively new segment, theyre clocking increasingly higher sales.
Anti-diabetic medications were the second fastest growing segment last year reporting a rise of 14.2%, although this was way lower than the 22% seen in CY12. There were several gliptins a type of diabetes drug launched in 2012 which created a huge base, IDFC Institutional Equities analyst Nitin Agarwal Agarwal explained. The market share of gliptins is rising steadily with CY2010 sales of about R8-10 crore growing to about R13-15 crore in CY2013 and Natarajan believes the base created by gliptins has now normalised. Several anti-diabetes molecules have, however, come under price control such as metformin, a basic diabetes therapy, which has been added to the national list of essential medicines (NLEM) .
The growth of the cardiac therapies segment, the second highest-grosser in CY13, more than halved to 8.5% due to the lower contribution of cardiac drugs with statins or purely statin drugs to the mix. Pure-play cardiac drugs comprised 82.1% of the cardiac segment with the combination of statins and statin drugs vying for the rest of the market share.
Analysts believe the low base post July last year together with the normalisation in distribution as also impact from price increases taken from April onwards should help pharma sales grow 8-10% in the current year. However, they caution that a rebound to the levels of 10% plus growth seen in FY13 may not happen soon.
Industry growth is likely to recover as the one-off factors like rollout of NLEM, trade destocking, product ban impact are behind it, JP Morgan analyst Neha Manpuria wrote in a recent report.
Analysts feel the increasing competition in the market will keep the lid on prices of non-NLEM drugs. Moreover, the net impact of any price hike in NLEM drugs, they believe, could be lower as companies are likely to transfer some of the pricing benefit to the trade. Thus, the key driver for any improvement in the growth rate beyond the estimate of 8-10% would have to be a ramp-up in new product introductions. New brand launches would merely shift prescriptions from existing brands and usually increase price erosion in the category, they explain.