The Cabinet Committee on Infrastructure is likely to take up the matter of allowing Dredging Corporation of India (DCI) to buy three dredgers at a cost of more than Rs 1,700 crore this week. DCI proposes to purchase the dredgers through international bidding process and received the nod of Public Investment Board for the same in 2009.
The matter is with the Cabinet Committee on Infrastructure and the discussion may take place this week as DCI needs the dredgers urgently to expand its capacity, a senior official in the shipping ministry told FE. Shipping minister GK Vasan had announced in July 1, 2009 that his ministry would facilitate purchase of the three dredgers by DCI by the end of September 2009, but could not achieve the target.
The three dredgers are trailer suction hopper dredgers, each with a capacity to dredge 5,000 cubic metre. The public sector firm has 12 dredgers and need more to simultaneously fulfill the requirement of Sethusamudram project and the riverine shipping channels of Haldia Dock Complex, under Kolkata Port Trust. It has capacity to dredge 80 million cubic metre a year at present and has plans to take the strength to 100 million cubic metre per annum.
DCI is the usual choice of ports to carry out routine dredging works, but due to its low capacity, major ports have to invite bids from global players for routine dredging works. In 2008, Kandla Port Trust released an international tender for dredging works for two years. The contract was worth Rs 225 crore.
DCI has one cutter suction dredger of 2,000 cubit metre under construction at Mazagon Dock Ltd, Mumbai and the same is likely to be constructed by February 2010-end. Besides, the company is also purchasing a backhole dredger from Holland, which would be delivered by the end of August this year.
The three new dredgers will also be acquired from a Holland firm called IHC Holland Merwede BV, which is the only qualified bidder for the tender, the official said. DCI has to finance the purchase through loans and internal resources as the company, being a miniratna firm, is not allowed to take budgetary support from the government.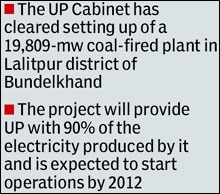 The government wants that one dredger from IHC Holland should be constructed in Indian shipyards through technology transfer. It also wants the delivery of first dredger by 2012.