Retail loans grow 26% year-on-year; overall asset quality stable at 0.8% gross NPL: Q2FY14 net profit was 2% ahead of consensus and 4% below our estimates. The miss on our numbers was largely on account of lower-than-expected corporate loan growth and lower spreads. With wholesale borrowing costs declining in Q3 vs. Q2, funding costs should gradually ease, leading to improvement in spreads. Barring a single non-retail account, which has slipped to NPL (and which is well collateralised), there are no signs of asset quality stress. Strong loan growth and stable asset quality should help in sustaining the premium valuation (4x FY14e P/B and 15x FY14e P/E, adjusted for subsidiaries).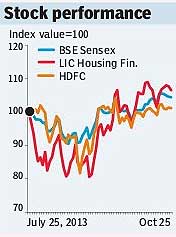 Approvals and disbursements improve, spreads decline 10 bps quarter-on-quarter: NP (net profit) was Rs 12.6 bn (+10% y-o-y, +8% q-o-q). Loan growth was healthy at 19% y-o-y (year on year) driven largely by individual loans (+26% y-o-y), while non-individual growth was slow (+7% y-o-y). Approvals (+15% y-o-y, +23% q-o-q) and disbursements (+18% y-o-y, +63% q-o-q) showed an uptick. Reported loan spreads declined 10 bps q-o-q to 2.2%. NPL (non-performing loan) rose by 7% q-o-q to Rs 14.7 bn largely driven by single non-individual accounts. Profit on the sale of investments was R8.7 bn compared to zero in Q1. Consolidated profit after tax was up 20% y-o-y.
Spreads should improve in H2 as funding costs ease: The high wholesale borrowing costs of Q2 have started gradually reversing in Q3 and Housing Development Finance Corporation Ltd (HDFC) is using this opportunity to repay some of its high-cost bank term loans. The full benefit of lending rate increases during Q2 is yet to play out. The combined effect of this should lead to better spreads in H2FY14. Retail loan growth remains strong even as there is some improvement in non-retail loans. There is no irrational competition yet from banks for retail loans. The increase in NPL during H1FY14 is largely driven by exposure to a single non-retail entity; HDFC remains confident about recovering the loan over the next two-three quarters. Other than this, there are no signs of asset quality stress yet.
Our SOTP (sum-of-the-parts) based target price for HDFC is R950.We value HDFCs core mortgage using the two stage regular income model. Key downside risk is property prices staying high and affecting demand.
Deutsche