Full subsidy exemption on Gail India to aid revival of investor interest in shares.
Key Takeaways from Gail India management interaction: *Subsidy: management hopeful of full relief, going forward. GAIL is hopeful that it will not be brought back into the subsidy net even after FY14. Its confidence stems from the APM (administered price mechanism) price hike impact from Apr'14e, combined with a need to report a minimum level of profitability in the LPG division---the combined impact of which could be Rs 10-12 bn (almost equal to FY14 subsidies of Rs 14 bn).
*Take-or-pay: a near-term risk. As per the management, Rs 1.7 bn of gas transmission revenues in H1 were booked on a take-or-pay basis on KG volumes. Akin to Gujarat State Petronet Ltd (GSPL), GAIL may also cease recognising these revenues, going forward (5% annualised earnings impact), which our forecasts largely factor in.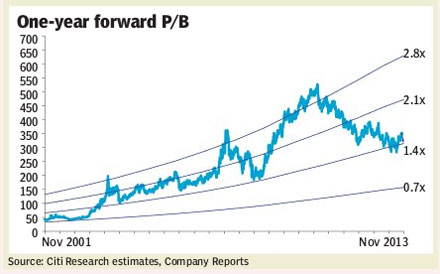 *Q3 trends: gas volumes down, but petchem strong. Gas volumes are trending at 92 mmscmd (million metric standard cubic metre per day) currently vs. 95 in Q2. The management, however, expects Dabhol to receive 8 more cargoes in H2FY14 (three in Q1, nil in Q2), which could drive higher volumes in Q4, especially if KG volumes also recover by then (RIL management expects some volume augmentation). In addition, petchem pricing and gas trading margins are trending robust QTD (quarter-to-date).
* Kochi connectivity: court order a positive. Progress on the Kochi-Mangalore & Bangalore pipelines remains slow, with a completion of either unlikely before Mar15e (estimates). However, the HC order accepting GAILs petition against the TN governments opposition appears positive.
GAIL has no plans of extending the Dabhol-Bangalore pipeline to Mangalore or, in fact, undertaking any major pipeline expansions pending volume visibility.
*Regulatory risks: to the upside. While fully (and retrospectively) implementing the new pipeline tariffs, GAIL has appealed against some of these in the appellate tribunal with risks, as per management, being more to the upside if the appeals are upheld.
*Maintain 'Buy' with Rs 389 target price. Full subsidy exemption going forward, which we now assume, should help offset the impact of higher gas prices from FY15 and aid revival of investor interest. In addition, the operational environment is also improving with gas volumes close to bottoming out and petchem offtake and realisations remaining robust.