Exploration & production major Oil & Natural Gas Corporation's net profit increased 6% to Rs 5,089.64 crore in the second quarter ended September 30, compared with Rs 4,808.41 crore in the corresponding period of the previous year. This is ONGC's first rise in five quarters thanks to an easing of its subsidy-sharing burden.
Profits were lower by Rs 1,491 crore as it was asked by the government to pay a Rs 2,630-crore fuel subsidy by way of discounts on crude oil sales to state-run refiners. The subsidy payout, however, was lower than the Rs 12,663 crore in the same period last fiscal. Sales, however, fell to Rs 15,080.59 crore from Rs 17,407.40 crore on a dip in oil production and prices.
For the half-year ended September 30, net profit fell to Rs 9,937.56 crore, from Rs 11,444.74 crore a year earlier, largely because of lower per-barrel realisation on crude sales. Crude oil prices had peaked at $147 a barrel in August 2008. The company paid Rs 3,059 crore towards fuel subsidies in H1, compared with Rs 22,474 crore in the corresponding period last year. ONGC estimated that its profit in H1 would have been higher by Rs 1,733 crore if it had not made these subsidy payouts.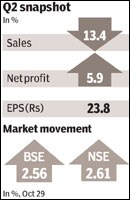 Upstream companies like ONGC have to bear the entire revenue loss that retailers IOC, HPCL and BPCL incur on selling domestic cooking gas (LPG) and kerosene at below cost. The companys sales dropped to Rs 29,959.86 crore from Rs 37,459.60 crore in the same period last fiscal.
ONGC has won 17 of the 25 oil & gas blocks bid for along with partners in the just concluded Nelp-8 auctions. It had bid for seven deep-sea blocks--five as sole operator, one as joint operator with Oil India Ltd and one with the BG Group of the UK as operator. It won all the seven blocks.
According to Merrill Lynch, ONGC is set to drill from early 2009-2010 in the K-G and Mahanadi basin blocks, where it has already made discoveries. ONGC shares closed at Rs 1,165.85 on the BSE on Thursday, a gain of 2.56%.