Improved performance in a challenging environment
HDFC reported PAT (profit after tax) at R13.3bn (vs est of R12.3bn) led by better than expected margin performance (net operating income 11% above estimate.) Business growth remained healthy and asset quality impeccable.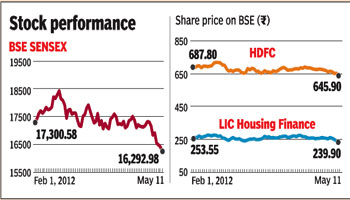 Loans and AUM (assets under management) growth remains healthy at 20% y-o-y: HDFCs net loans during the quarter grew 20% y-o-y (year-on-year) and 7% q-o-q (quarter-on-quarter) to R1.41 trn. Individual loans (including sell-downs) continued to grow at a healthy pace, up 20% y-o-y and 6% q-o-q to R1.03 trn. Meanwhile, corporate loans grew 19% y-o-y and 9% q-o-q to R502bn. During the year, HDFC has not sold down any corporate loans. Despite a challenging environment, sanctions and disbursements continued to grow at a healthy pace. Sanctions during the quarter grew by 22% y-o-y and 36% q-o-q to R270bn, while disbursements grew 15% y-o-y and 32% q-o-q to R212bn.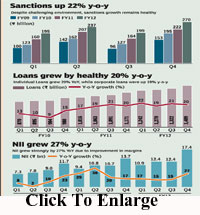 Margins improve sequentially leading to strong NII growth: Net interest income (NII) grew by 27% y-o-y to R17.4bn as interest expenses declined 2% q-o-q. However, adjusting for R1.03bn worth MTM (mark-to-market) provisions made in Q3FY12 , interest expenses remained largely flattish.
Despite 9% q-o-q increase in borrowings, the q-o-q decline in cost of funds could be attributed to: (i) one-off MTM provision worth R1.03bn made in Q3FY12, adjusting for which interest expenses remained flat q-o-q; (ii) borrowings through bonds, debentures and commercial papers down 8% q-o-q; (iii) steep 63% q-o-q increase in bank term loans, and (iv) utilisation of excess liquidity on balance sheet Asset quality remains impeccable: Asset quality remained healthy with GNPAs (gross non-performing assets) on 90-day overdue basis stood at 0.74% vs 0.82% in Q3FY12 and at 0.44% on 180-day overdue basis vs 0.53% in Q3FY12. Provisions increased marginally to R250m vs R200m in Q3FY12.
Adjustments to reserves during FY12: As per the changes in the provisioning requirements by the National Housing Bank towards standard assets, standard assets in respect of exposure to commercial real estate (CRE) and additional provisioning on sub-standard assets and doubtful assets, a one-time charge on this account has been met by utilisation of additional reserves of R648.5m during Q4FY12 and R3.5bn for FY12. R4.85bn vs R5.32bn in FY11, debited to reserves towards amortisation of ZCBs (zero coupon bonds).
Other details
HDFC declared dividend of R11/share. Payout ratio works out to 45%, stable y-o-y. As on March 2012, CAR (capital adequacy ratio) stood at 14.6%.
Attractive valuations; strong growth visibility; upgrade to Buy: Despite steep increase in rates, HDFC has been able to maintain a tight leash on cost of funds through active asset-liability management, which is commendable.
Business growth is expected to remain healthy driven by continued momentum in the individual home loan segment and healthy traction seen in housing demand in tier-II and tier-III cities.
We expect HDFC to report EPS (earnings per share) of R33 in FY13 and R39 in FY14 with improvement in core RoE (return on equity) to 30% by FY14. We expect Adjusted Book Value to be R107 in FY13 and R127 in FY14. The stock trades at 3.8x(times) FY14e adjusted P/ABV (price adjusted for value of key ventures and book value adjusted for investment in those ventures) and adjusted P/E (price-to-earnings) of 12.4x. We believe HDFCs valuations are now attractive considering the growth potential, sound business fundamentals, and substantially improved subsidiaries perfor- mance. We upgrade our rating on the stock to Buy with a SOTP (sum-of-the-parts)-based target price of R800.