BSE Sensex to benefit if Narendra Modi-led Bharatiya Janata Party (BJP) comes to power, says poll.
The
BSE Sensex
is forecast to continue setting new record highs this year as foreign capital is lured into the market, especially if general elections return the business-friendly Narendra Modi-led Bharatiya Janata Party (BJP) to power, a Reuters poll found on Thursday.
The BSE Sensex hit a life-time high of 22,040.72 on Tuesday but the poll of 23 equity analysts, taken in the past week, forecast the index to rise further to 23,000 by the end of June.
It is then expected to hit 24,500 by the end of 2014, a 12 percent gain from Wednesday's close of 21,832.86.
India's top share index has risen 3 per cent this year, with foreign investors pouring in nearly $2 billion after ploughing in more than $18 billion last year.
Also read: The Indian Express Most Powerful Indians list
Analysts expect overseas investors to continue buying Indian shares in the run-up to the world's largest democracy going to the polls in April and May.
"The market will keep going up until the (election) results are announced and the euphoria will last for a month or two after, until the budget is announced where people expect big bang reforms," said Madan Sabnavis, chief economist at CARE Ratings in Mumbai.
All but one of the 19 strategists polled expected the Sensex to rally in anticipation of reforms and draw further overseas funds if, as is widely expected, the opposition BJP wins the election.
Also read: Narendra Modi or Rahul Gandhi, here is what United States wants from the new Indian PM
However, 13 of the 19 strategists expect the index to change little or fall if the ruling Congress Party gains a majority. Only 6 said the index will rise in such a scenario.
"Since the market is fairly valued, a badly fractured election verdict will result in a sell off and a market crash," said V.K. Vijayakumar, investment strategist at Geojit BNP Paribas, adding that a coalition led by the BJP would likely extend the recent rally.
The current Congress-led coalition has been widely criticised for its inaction in pushing through key reforms, which has hurt economic growth and investor sentiment.
Analysts also attributed the expected rally in Indian stocks to a slight improvement in the outlook for inflation and fiscal balances.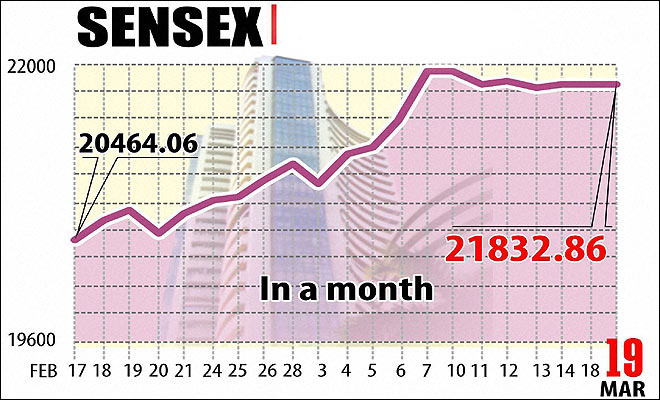 BSE Sensex hit a life-time high of 22,040.72 and equity analysts forecast that the index will rise further to 23,000 by the end of June.
On Tuesday, Goldman Sachs upgraded its rating on Indian shares to "overweight" from "marketweight" as external vulnerabilities have reduced and noted a potential for further gains ahead of elections.
Most emerging market stocks took a hit in May when the United States Federal Reserve first hinted at tapering its monthly bond purchases but have consolidated since then, despite the Fed rolling back its stimulus from January.
"We believe emerging markets look attractive as compared to developed markets in terms of valuations," said Deven Choksey, chief executive of broking firm K.R. Choksey in Mumbai.
"Within emerging markets, countries which are reliant on exports to the U.S. look very attractive considering the improvement in U.S. macro data."
Also check:
* Check car prices: All Models