BSE Sensex to be powerwed by Axis Bank, Bharti Airtel, Bharat Forge, Coal India, Godrej Consumer, ITC, IndusInd Bank: Deutsche PTI photo
A day after the market benchmark sniffed at life-time high, German brokerage Deutsche Bank today raised its year-end
BSE Sensex
target to a record high of 22,000 points, saying investor pessimism earlier this year is receding amid positive developments like the good monsoons.
"We are raising our December BSE Sensex target from 21,000 to 22,000 premised on our expectation that the pace of negative news flow over the country and excessive investor pessimism may be receding," Deutsche Bank said in a note.
The Sensex hit an all-time high of 21,206.77 on January 1, 2008, while during intra-day yesterday, it had scaled 21,039.42. While on January 1, 2008, the Sensex was trading at 28.12 times its PE, yesterday it was 18.89 times.
The bank said currency stability, lowering gold imports, rising exports and taper postponement have imparted considerable legitimacy to the government's commitment to contain CAD - the main pain-point for the economy.
In addition, the best monsoon in 15 years is expected to lay the foundation for an accelerated recovery in the rural economy which accounts for 56 per cent of total income and 64 per cent of total expenditure.
While stating it is not expecting any imminent turn in private sector investment momentum and remains cautious over near term monetary policy action, the brokerage has based its optimism on macroeconomy, likely withdrawal of extraordinary liquidity tightening measures by RBI, a synchronised global growth recovery and a US Fed that is expected to stay 'looser for longer'.
"At our target the Sensex will trade at a PE multiple of 15 times, in line with its past five trading average," the brokerage said.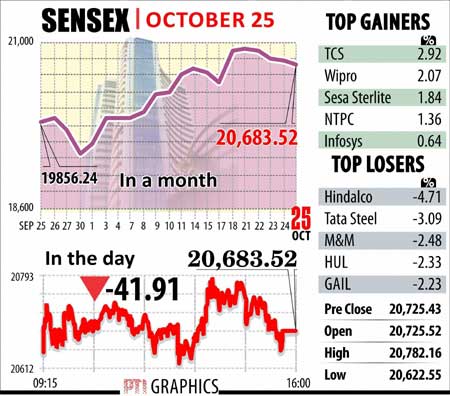 The benchmark BSE Sensex fell 0.2 percent, or 42.45 points, to end at 20,725.43 on Thursday.
On its preferred stocks/sectors, it replaced IT services which it holds as 'neutral' with banks as the biggest portfolio overweight followed by metals, citing receding concerns over tight liquidity and higher short-end interest rates.
"Our top picks include Axis Bank, Bharti Airtel, Bharat Forge, Coal India, Godrej Consumer, ITC, IndusInd Bank, Larsen & Toubro, Maruti, RIL, Tata Steel and Zee.
"We have raised banks as the top overweight in our model portfolio as we believe that excessive concerns over tight liquidity and elevated short-end rates are behind us, and fears of sharp margin compression and treasury losses have waned," it said.
However, it said the three key themes investors will be playing out will be currency stabilisation, rural demand recovery and global growth.
Stating that the overall scene is not as bad as it appeared earlier, it said following fears over the Fed taper in May and the sharp currency depreciation, investors had feared a vicious economic cycle for the country and a protracted return to normalcy.
It also noted that contrary to prevailing pessimism during the currency crisis, the Q2 earnings so far have been above street expectations, assuaging investor concerns over an accelerated earnings downgrade cycle.