The benchmark BSE Sensex rose to a new all-time closing high of 21,164.52 points on Thursday and is now within kissing distance of its all-time intra-day high. Equities rallied on the back of sustained overseas inflows as the US Fed gave no indication of an impending tapering of its quantitative easing programme on Wednesday. The total traded value surged to over R5 lakh crore on both exchanges, a record high.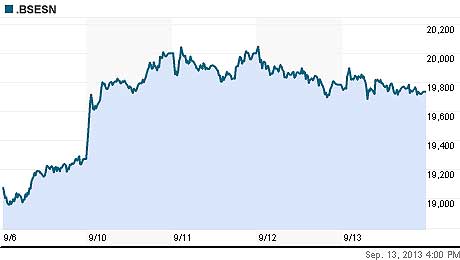 The Sensex rose to an intra-day high of 21,205.44 on Thursday, just short of the all-time high of 21,206.77 seen in January 2008. On Wednesday, the Sensex had gained 104.9 points or 0.5% to close at 21,033, a new all-time high, spurred by positive global sentiment. The Sensex has gained 9.2% this month, its biggest monthly gain since January 2012 on strong inflows from overseas investors. The gauge has now put on about 21% since hitting an intra-day yearly low of 17,448.71 points on August 28.
With the kind of backdrop we have at the moment, I expect this rally to continue for some more time, said Andrew Holland, CEO, Ambit Investment Advisors. I dont see any negative factor that could hold the rally in the very near term given the kind of global liquidity that is floating around at this moment.
Foreign institutional investors (FIIs) bought a net $305 million worth of Indian equities on Wednesday, according to provisional data from stock exchanges, taking their month-to-date tally to about $2.9 billion. This was the 20th consecutive session of FII buying. FIIs have now purchased shares worth about $16.5 billion in the year to date.
The NSEs Nifty, on the other hand, missed the psychological 6,300-mark by 0.85 points. The Nifty settled the day at 6,299.15, up 47.45 points. It had touched an all-time intra-day high of 6,357.10 on January 8, 2008, and closing high of 6,312.45 on November 5, 2010.
The renewed buying augurs well for India dependent on overseas inflows to fund its current account deficit. Foreign brokerages had recently warned that any significant sell-off from overseas investors could bring the markets crashing down as FII ownership in Indian markets was at an 8-year-high.
Though markets were flat for most of the day, the benchmark rallied in the last half-hour of trading on the back of futures positions rolled over on the day of F&O expiry. Frontline PSU banking stocks saw a good amount of short-covering on better-than-expected quarterly numbers of some public sector banks such as Bank of Baroda and Allahabad Bank.
The top gainers of the day were SBI (4.5%), Tata Steel (2.45%), GAIL India (2.3%), Tata Power (1.99%) and ICICI Bank (1.96%).
The Sensex has now risen 14%, or about 2,597 points, since Raghuram Rajan took over as Reserve Bank of India (RBI) Governor on September 4 and is up 8.9% in the year to date. The rupee, on the other hand, has appreciated 9.1% against the greenback since the governor announced measures to shore up the rupee. The rupee closed at 61.50/$ on Thursday.
Despite the recent upmove, India is among Asias worst performers in the year to date. The BSE Sensex has shed about 3% in dollar terms in the current calendar year. In contrast, most of its Asian peers Hong Kongs Hang Seng (up 2.4%), South Koreas Kospi (up 1.9%) and Taiwans Taiex (up 8.3%) have fared much better. Japans Nikkei 225 (up 21.65%) has emerged the top performer. The Chinas benchmark index Shanghai Composite is also going through a bit of a rough phase and is down 3.5% ytd. The only market India has beaten comprehensively is Indonesias Jakarta Composite, which is down 10.6% ytd in dollar terms.
Most of the Asian markets ended in the red on Thursday. The Nikkei 225, Jakarta Composite and Kospi fell more than 1% each. European stocks, however, continued to make gains trading at their five year highs. The major European indices opened in the black on Thursday, with the FTSE 100, DAX and the CAC, trading up marginally anywhere between 0.07% and 0.43% at about 7.00 pm IST.
Back home, 21 of the 30 Sensex stocks ended in the green on Thursday. The wider market breadth was moderately strong with 49% or 1,315 of all stocks gaining. Most of the 13 sectoral indices on the BSE gained, with the BSE Consumer Durables and BSE PSU indices gaining more than 2% each.
India VIX, a volatility index based on the CNX Nifty index option prices, slid 5.8% on Thursday to 18.39.