Surpassing all previous records, the
BSE Sensex
today touched a fresh life-time high of 22,740.04 intra-day on buying in pharma, banking and oil stocks triggered by positive growth prospects.
The 30-share barometer closed at 22,702.34 points, up by 358.89 points, or 1.61 per cent.
The broad-based NSE Nifty crossed 6,800 level for the first time before settling at record 6,796.20 points, up by 101.15 points, or 1.51 per cent, over the previous close.
The BSE Sensex had its biggest single day gain after March 7 after IMF forecast a better growth rate for India in 2014. IMF said India's growth is expected to recover from 4.4 per cent in 2013 to 5.4 per cent in 2014.
Markets Top Gainers, Markets Top Losers
A higher opening in Europe further supported the rally, brokers said.
Index-linked Sun Pharmaceuticals Industries was the star performer by zooming 6.60 per cent as analysts upgraded the company after it agreed to acquire Ranbaxy Laboratories Ltd.
Gains in Reliance Industries, banking stocks like ICICI Bank, HDFC Bank and SBI also fuelled the rise in the barometer.
In 30-BSE index components, 26 stocks closed with gains.
IT stocks, lead by Infosys Ltd and TCS, however, fell ahead of the financial results. Infosys dropped the most by 1.16 per cent among index stocks.
Besides, Tata Motors, Axis Bank, HDFC, Hindalco, BHEL, Larsen and Toubro, Mahindra and Mahindra and Maruti Suzuki India also posted gains.
The banking sector index gained the most by 3.45 per cent to 14,798.80 followed by metal index by 2.26 per cent to 10,363.34.
Healthcare index rose by 2.21 per cent to 10,593.26 and Realty index by 1.85 per cent to 1,533.57.
BSE Sensex rallies to a new record high, Sun Pharma shares surge on Ranbaxy deal
(Reuters) BSE Sensex soared to record highs on Wednesday, surpassing previous all-time highs hit just last week as Sun Pharmaceuticals Industries surged on broker upgrades after it agreed to acquire Ranbaxy Laboratories Ltd in a $3.2 billion deal.
Markets Top Gainers, Markets Top Losers
The BSE Sensex rose as much as 1.77 percent to an all-time high of 22,740.04, surpassing its previous all-time high hit on April 3. The NSE Nifty index rose as much as 1.7 percent to a record high of 6,808.70.
Sun Pharmaceutical provisionally gained 6.8 percent, rising the most in a day since August 2013, while Ranbaxy shares also rallied 4.7 percent.
Investors also regained appetite for blue-chips, especially interest rate-sensitive banks, which rose 3.4 percent, after indexes had retreated from previous record highs hit on April 3.
The BSE index provisionally ended 1.61 percent higher, while the NSE index rose 1.51 percent.
Raghu Kumar, Cofounder RKSV
The upswing was attributed to a report issued earlier in the day by the International Monetary Fund (IMF), which projected that India's GDP would grow at 5.4% in FY 2014-2015 and fare even better the subsequent year at a projected 6.4% growth in FY 2015-2016. This marks a huge relief for investors, as India's GDP is the only major fundamental indicator that has not been posting strong numbers over the past few quarters. While inflation has been brought under control due to heavy RBI intervention and the Rupee has appreciated and shown signs of stability, the only concern left in the minds of investors had to do with GDP. India's GDP stood at 4.4% in 2013 and 4.2% in 2012, far below what economists would consider healthy numbers. With a strong GDP forecast, coupled with the upcoming elections, we could be in the midst of a big bull rally over the next two months."
Also read: Why coming together of the two cos makes a potent combinationSun Pharma buyout of Ranbaxy Laboratories will propel the combined entity to the number 1 spot in India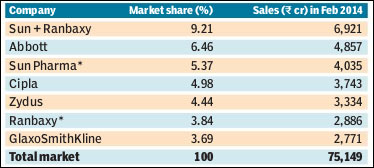 Major acquisitions by Sun Pharma