After falling over 200 points initially, the S&P
BSE Sensex
today recouped losses to end flat at 19,997.45 on the back of gains in shares of metal and banks, extending its winning run to the fifth day.
Rise in SBI, HDFC, Sun Pharma and Tata Steel shares helped Sensex close at 19,997.45, up 0.36 points.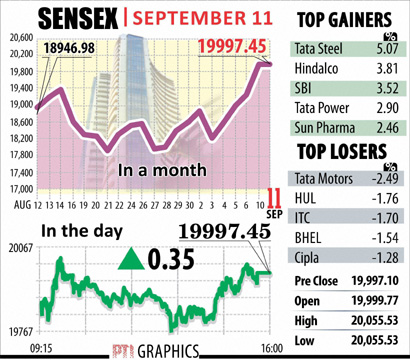 Markets saw bouts of profit-booking after the biggest four-day rally in four years in which Sensex had gained 1,757 points. This dragged the 30-share bluechip index down to day's low of 19,777.63 -- down 219 points from previous close, at one time. During the trade, Sensex shuttled between 20,055.53 and 19,777.63.
Brokers said banking stocks rose on hopes of an interest rate cut by the RBI next week even though investors were largely playing it safe ahead of IIP and inflation data.
SBI shot up by 3.52 per cent to Rs 1,688.90, Bank of India by 10.46 per cent to Rs 166.80, Bank of Baroda by 8.14 per cent to Rs 520.80, Union Bank of India by 7.78 per cent to Rs 117.80, Punjab National Bank by 7.07 per cent to Rs 496.75 and Canara Bank by 6.82 per cent to Rs 222.30.
The 50-share National Stock Exchange index Nifty managed to end higher by 16.40 points, or 0.28 per cent to 5,913.15. It moved between 5,924.35 and 5,832.70 intra-day.
SX40 index, the flagship index of MCX-SX, ended at 11,838.59, down 11.07 points or 0.09 per cent.
Sensex was dragged down by its three most influential constituents - Infosys fell by 0.96 per cent to Rs 3,120.55, RIL by 0.15 per cent to Rs 887.30 and ITC by 1.70 per cent to Rs 329.70.
In the metal sector, Tata Steel, Sterlite Industries, JSW Steel, SAIL, Sesa Goa and Hindalco Industries attracted buying support and settled with gains.
The rupee continued with its gains and was trading near 63.20 levels against dollar, after falling to 64.19 intra-day.
Global indices, however were seen mixed. Reports said a fresh condition by Russian President Vladimir that the US should rule out use of force against Syria added to the uncertainty.
Indian shares extend gains to a fifth day on FII inflows
(Reuters) Indian shares edged higher on Wednesday, posting a fifth consecutive session of gains, as continued foreign investor buying lifted some recently under-performing blue chips such as State Bank of India, though others were hit by profit-taking.
Foreign institutional investors (FIIs) bought 27 billion rupees ($422.16 million) of shares on Tuesday, bringing their total to nearly 50.5 billion rupees over the previous four sessions.
Indian indexes have rallied over the past five sessions, with the broader NSE index up nearly 11 percent, on hopes that the government will announce steps to boost the economy.
Speculation has centred around measures to attract foreign inflows and curb non-essential imports, as well as on a potential hike in diesel prices that would help improve confidence about the government's finances.
"New RBI governor's action has been appreciated by rupee, and thereby equities, and now there are expectations that the government may try and match his efforts," said Dipak Acharya, fund manager at Baroda Pioneer Asset Management Co.
The broader NSE index rose 0.28 percent, or 16.40 points, to 5,913.15, closing above the psychologically important 5,900 level and marking its highest close since July 24.
The benchmark BSE index rose 0.35 points, to end at 19,997.45, almost unchanged from Tuesday's close. However, the gains were limited as a week of rise for world stocks petered out on Wednesday and a sell-off in oil and core government debt eased, after talks began on trying to avert a U.S. military strike on Syria against a broadly calm market backdrop.
Dealers also await the July factory data and the wholesale and CPI inflation data for August before the monetary policy review next week.
Banking shares rose on value buying with the State Bank of India Ltd rising 3.5 percent and Axis Bank Ltd ending 3.15 percent higher.
Dealers said state-owned banks were playing catch-up to the rally in private peers due to relatively attractive valuations.
Among midcap banks Union Bank Ltd rose 7.8 percent, while Bank of India Ltd surged 10.4 percent.
Shares of Larsen & Toubro Ltd gained 1.4 percent, adding to Monday's 7 percent rise after Goldman Sachs added the stock to its "conviction buy list," citing valuations and growth potential among other factors.
Shares in companies owned by foreign promoters also rallied for a second day after the central bank said on Friday it would allow non-residents to buy stocks of listed domestic firms through the foreign direct investment route.
ABB India Ltd rose 3.2 percent, adding to Tuesday's 17.43 percent gain, while Siemens Ltd gained 8 percent, totalling a gain of 16.3 percent in two days.
However, Tata Motors Ltd declined 2.5 percent as a near-10 percent rise on Tuesday was seen as overdone.
Tata Motors said later that global wholesale vehicle sales fell by 16 percent in August, hit by a drop in passenger vehicle sales at India's largest automaker by revenue.
Cairn India Ltd fell 2.6 percent as Brent crude futures declined more than 4 percent in the previous two days as fears of an imminent strike against Syria eased.
($1 = 63.9575 Indian rupees)