Markets closed at their all-time highs on Wednesday as Indian rupee strengthened against the US dollar further after closing at an 8-month high on Tuesday. The
BSE benchmark, the Sensex
closed 0.18% or 40.09 points higher at 22,095.30 points, the NSE's Nifty closed 0.18% or 11.65 points higher at 6,601.40 points. The Indian rupee was trading 60.14 against the US dollar at 4.30 pm IST.
Experts feel the steady FII flows could further strengthen rupee. "Overall, FII flows (equity and debt combined) have been positive in recent months. Indian rupee remains steady largely in 61-62 range. We anticipate a preelection rally towards 59," Barclays said in a recent research note.
Earlier during the trading session, the 50-share Nifty touched lifetime high of 6,627.45 points, while the Sensex touched lifetime high of 22,172.20 points.
Among sectoral indices, the BSE Metal (2.70%), BSE Oil & Gas (1.14%) and BSE Capital Goods (1.35%) were the major gainers. Among individual stocks, Sesa Sterlite (4.23%), Hindalco Industries Ltd (3.77%) and Tata Motors (2.70%) were the major gainers.
Among Asian indices, the Hang Seng (0.72%), Kospi (1.19%), Straits Times (1.26%) and Jakarta Composite (0.53%) were the major gainers.
Meanwhile, the US consumer confidence improved in March as the Conference Board's index for consumer attitudes rose to 82.3, the highest since January 2008.
According to experts signs of global economic recovery will benefit Asian markets. "Globally we expect developed markets to register a solid growth improvement, which should bode well for Asian equities," Goldman Sachs said in a recent report.
Dipen Shah, Head- Private Client Group Research, Kotak Securities:
Continued optimism on the outcome of the general elections and supportive global markets kept sentiments positive. The export oriented sectors were the under-performers as the rupee continued its upward march towards the 60 / USD mark. The important events to watch out for will be the RBI meeting on April 1 and the quarterly results, which will follow the RBI meet. With F&O expiry tomorrow, markets may be volatile.
Raghu Kumar, Cofounder RKSV:
After hitting new all time highs on both the Sensex and the Nifty due to continued heavy investing into the markets by FII's, the markets consolidated and ended the day flat. With tomorrow being expiry day on March contracts, there was heavy volatility on the derivatives segment, as evidenced by the National Stock Exchange clocking in more than 250,000 Crore in turnover. The Capital Goods and Auto sectors stood out as each sector surged by more than 1%. The rest of the week should see heavy volatility as the markets eagerly await the RBI's announcement on the headline repo rate decision on April 1st. With the Ukraine crisis underway causing Russia's stock markets to plummet, FII's continue to look to India as the preferred emerging market to invest in. This trend should continue for the foreseeable future.
BSE Sensex, NSE Nifty hit fresh record high on capital inflow
(PTI) The BSE benchmark index Sensex today climbed to all-time high of 22,095.30 points by gaining 40 points on sustained buying by foreign funds in bluechips on improving growth outlook amid a firming global trend.
The National Stock Exchange's broad-based index Nifty also closed at record high of 6,601.40 points, up by 11.65 points over the last close.
Both the indices surged to new record intra-day high levels. The Sensex touched the peak of 22,172.20 points while Nifty rose to 6,627.45 points in day trade.
After initial surge, markets rolled back to minimise the day's gains on profit booking and investors squaring up their pending positions ahead of monthly settlement in the derivatives segment tomorrow.
Brokers said foreign institutional investors remained net buyers on improving economic growth and rupee rising to over seven-month high against the dollar.
A firming global trend after the US consumer confidence climbed to a six-year high further supported the uptrend.
In 30-BSE index components, 16 stocks climbed.
Gains in Larsen & Toubro, Reliance Industries (RIL) and Tata Motors helped the Sensex post gains for the third straight day.
Maruti Suzuki, Bajaj Auto, Axis Bank, Bharti Airtel, ONGC and Coal India were among other major gainers.
The metal sector index gained the most by surging 2.70 per cent to 9,541.42, followed by capital goods index by 1.35 per cent to 11,893.28.
Oil and gas index rose by 1.14 per cent to 9,271.21 and PSU index by 1.10 per cent to 6,137.89.
BSE Sensex powers record-setting streak, Larsen & Toubro,Tata Motors shares advance
(Reuters) BSE Sensex rose to record highs for a third straight session on Wednesday, as blue chips such as Larsen & Toubro (L&T) extended recent gains, bolstered by buying from foreign investors on hopes of a recovery in the domestic economy.
The NSE Nifty index rose as much as 0.57 percent to an all-time high of 6,627.45, while the benchmark BSE index gained 0.53 percent to a lifetime high of 22,172.20.
Markets Top Gainers, Markets Top Losers
Larsen & Toubro provisionally rose 2.2 percent, while Tata Motors ended higher 2.4 percent.
The BSE index provisionally closed 0.1 percent higher, while the NSE index gained 0.15 percent.
Market Graphics Tuesday: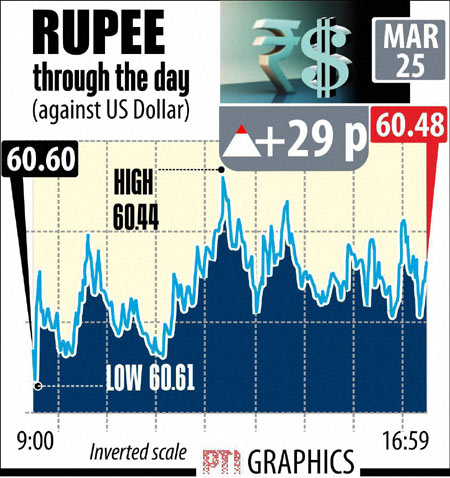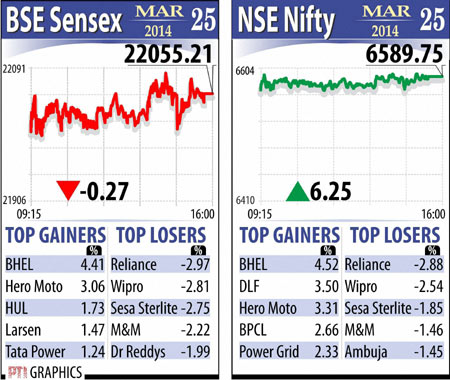 Gallery: Employment Index, Jaswant Singh assets, Indian rupee, BSE Sensex, NSE Nifty, Gold price on March 25, 2014