BSE Sensex rose 704 points during the day to breach 23,000 mark for the first time and finally closing the day at an all-time high of 22,994.
Fridays climb by the Sensex by 650 points has made regulators wonder if there is an insider trading issue here.
Market analysts The Indian Express spoke to, said the indices began to climb on the basis of trickled-out exit poll findings that showed the elections would throw up a stable majority. The issue is expected to figure in the financial sector regulators meet scheduled on May 13. The rise is linked to expectations of a change of guard at the Centre, said Jagannadham Thunuguntla, head-research, SMC Global Securites.
The Financial Stability and Development Council (FSDC) is set to meet on May 13 to put in place measures to prevent excessive volatility in stock and currency markets on May 16.
A Sebi official, however, said that the market regulator might not have a role to play in the possible trickling out of exit poll findings and the possible impact it could have had on market movement.
For Sebi this will be a new area since the market guidelines only refer to leaking of company results. Political developments of these sorts are a novelty that was not factored in when the rules were written. It is a new area that the regulators may have to look into.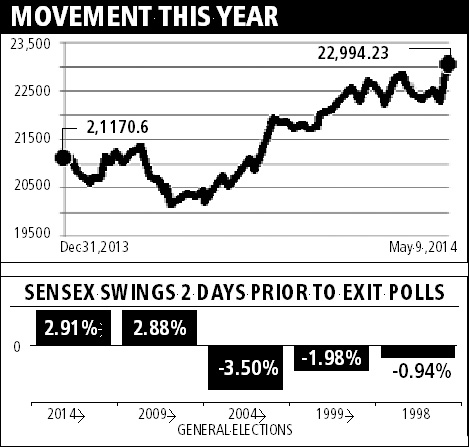 On Friday, matters were also compounded as some news channels and other agencies too claimed that the BJP-led NDA was near the majority mark of 272. This led to aggressive build up of position in all Sensex counters except Dr Reddys Laboratories.
Market experts have been projecting their numbers to help their investors. SP Tulsian, an independent market expert, in his website has projected that NDA is likely to get over 250 seats.
Similarly many brokers and financial institutions have been trying to gauge the results for their clients which some market insiders say has led to leakage of exit poll findings.
The FSDC meeting that was expected to be more of a farewell meeting for the outgoing finance minister now has a detailed task on its hands as there are reports coming in of a build-up in positions in the stock, currency and commodity markets. The meeting will be chaired by finance minister P Chidambaram.
Wiser after the huge fall in the markets on May 17, 2004, when the NDA government made way for the UPA, a coordination strategy for keeping the stock and other markets from going out of control will be hammered out at the meeting by Sebi chief UK Sinha, RBI Governor Raghuram Rajan and top finance ministry officials.