Public sector Bharat Petroleum Corporation Ltd (BPCL) on Friday said its net loss for the first quarter ended June 30, 2010, stood at Rs 1,718.10 crore compared to a net profit of Rs 614.12 crore in the corresponding period of the previous year.
The company said its results were adversely impacted on account of higher crude oil and product prices which could not be fully passed on to consumers.
BPCL said the under-recovery on sale of sensitive petroleum products has been partially compensated to the extent of Rs 1,549.55 crore. This has been accounted during the current quarter towards discount received for the purchase of crude oil, LPG and SKO from ONGC and SAIL," the company said.
Sales for the quarter under review stood at Rs 37,321.62 crore compared to Rs 27,660.50 crore in the first quarter of the previous year. The company said its average gross refining margin for the first quarter stood at $3.57 per barrrel, as compared to $3.17 per barrel in the corresponding period of the previous year.
For the quarter under review, the company incurred forex losses to the tune of Rs 338.26 crore against a forex gain of Rs 233.03 crore in the same period of the previous year.
Shares of BPCL were marginally up to close at Rs 642.35 on the BSE on Friday.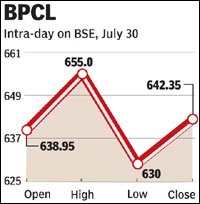 With the government deregulating the prices of petrol, oil marketing companies like BPCL will stand to benefit, since the concept of under-recoveries will now go. This will enable these companies to invest heavily in infrastructure, which is imperative, considering that the demand for petroleum products is growing at a fast pace. For BPCL, the total capex over the next five years would be to the order of Rs 30,000 crore to Rs 35,000 crore, its CMD Ashok Sinha said in a recent interview with FE. This will go into refining, pipelines, tankages, port locations, and inland terminals.
We will be growing at 2-3 mt per year. We cannot meet this demand overnight. In five years, we would need to meet an additional 15 mt of demand and have to beef up our distribution accordingly, Sinha said then.