Bond dealers, hit by a rather hawkish macroeconomic report on Monday, got succour from the Reserve Bank of Indias move to cut both the repo and the cash reserve ratio by 25 bps each at the policy review on Tuesday.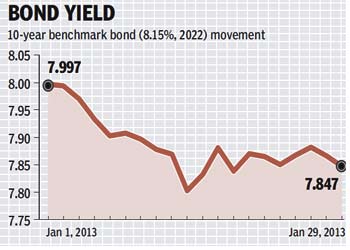 RBI cut the repo rate to 7.75% with immediate effect and CRR to 4% with effect from February 9 at the third-quarter policy review on Tuesday. While the bond market gave a rather muted reaction to the policy outcome as a 25 bps repo rate cut was expected, more steam is still left in the bond rally, dealers said. The 10-year benchmark bond yield slipped 6 bps from the day's high after the announcement of the cuts and yields could ease more in the coming weeks.
The policy is very positive for the markets and the tone was more dovish than expected. I would expect bond yields to go down, said P Mukherjee, head of treasury at Axis Bank.
Dealers said besides the surprise CRR cut, the tone of the policy statement was softer and the inflation projection was lowered as well. By March-end, RBI expects inflation to be 6.8%, less than 7.5% it projected earlier.
On back of these, some traders expect another rate cut in March and the yield on the benchmark 10-year 8.15%, 2022 bond could fall to 7.75% on such hopes.
Mukherjee of Axis Bank expects repo rate to be cut by another 25 bps cut in March.
However, given the fact that the government will borrow close to R12,000 crore every week in February and with the Union Budget scheduled for month end, bond yields could see some intermittent spikes. But yields may not rise beyond 7.9% on the 10-year bond segment. I think, for the quarter, 7.75-7.9% is the band we are looking at, said Manish Wadhawan, director and head of interest rates at HSBC Bank.
Anantha Narayan G, regional head of global markets at Standard Chartered Bank expects 10-year benchmark bond yield to move in 7.75-7.9% and ease towards March-end. The reaction of the bond market is muted as in a very vicarious way reduces the likelihood of more OMOs, said Ananth Narayan. For January-March quarter, the 10-year bond yield could move in 7.75-7.9% band, dealers said.
RBI has infused liquidity by buying government bonds under open market operations (OMOs) but has not been doing so for last three weeks. Bond traders are divided over the possibility of further OMO bond purchases given the CRR cut will infuse R18,000 crore.
While Ananth Narayan of Standard Chartered is unsure on OMOs, Pradeep Madhav, the MD at STCI Primary Dealership believes more OMOs are in store.