Bharatiya Janata Party (BJP) today said it apprehended security threat to party rallies in the wake of Naxal attack on mobile towers in Gaya ahead of election meetings of Narendra Modi.
Maoists blew up two mobile towers exploding powerful bombs in separate areas of Gaya district ahead of two election rallies of BJP's prime ministerial candidate.
"The BJP will like to draw attention of people of India and media on the number of threats, attacks which are continuing particularly targeting BJP rallies, even more particularly targeting Narendra Modi's rallies," BJP spokesperson Nirmala Sitharaman told reporters here.
She said the party had earlier approached the Home Minister drawing his attention to the media reports on the threat to BJP leaders.
"It is now clearly getting reinforced that the concern of BJP was well founded and with this everyday you see information coming from Delhi police and media which busted a terror module by arresting people from Jodhpur two days ago.
"Today Left-wing Maoists extremists blasting mobile towers in the very district where Modiji rallies are to take place in Sasaram in Bihar," she said and added "forces against the nation are active now to disturb the environment of elections and harmony in the country."
Referring to Narendra Modi's slogan, she said, "In this context it is not out of place that our prime ministerial candidate speaks about tendencies which are speaking against one India, a strong India and a united India."
Taking a dig at Congress president Sonia Gandhi, the BJP leader said, "In a recent, statement Gandhi had said it is Congress party which is holding this country up from falling apart. Let me ask Gandhi what exactly is happening now What kind of holding up is this"
Directing her ire towards Nitish Kumar for the "deteriorating" law and order situation in state, she said the blast at the Hunkar rally of Narendra Modi in Patna was "one of the biggest attacks which fortunately did not materialise against BJP leadership".
Appealing to the establishment and Home Minister to improve the law and order situation, she said, "BJP would want the people to see where the threat perception lies, see where action is missing and see where people are failing to do their duties and only talking.
"We are repeatedly appealing to the establishment and Home Minister to do a better job of internal security and law and order situation as there is now enough proof of inaction."
Also read: Live: Planes searching for Malaysia Airlines Flight MH 370 fail to find even one of '122 objects'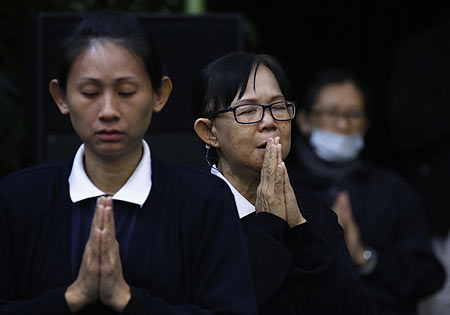 Volunteers from Taiwan pray for the passengers aboard Malaysia Airlines MH370 while family members of the passengers play a slideshow about the passengers in Beijing. (Reuters)