This may be a much-needed stitch in time that may save the erstwhile textile giant of South India Binny Ltd from extinction. The shareholders of Binny have given green signal to the management for reviving the firm by hiving off its business into three separate entities in areas such as textiles, engineering and real estate. The parent company would be split into three entitiesBinny Ltd, SV Global Mill Ltd, and Binny Mills Ltd.
The promoters hold nearly 75% stake and the remaining is with the public. As per the new scheme, effective since January 1, 2010, the existing shareholders of Binny Ltd would get seven equity shares of Rs 5 each in SV Global Mill Ltd, and one equity share of Rs 10 each in Binny Mills Ltd for every seven shares held (of Rs 5 ) in Binny Ltd.
The new scheme will enable to attract capital into some of the key businesses and to lend greater focus to the operation of each of its diverse businesses.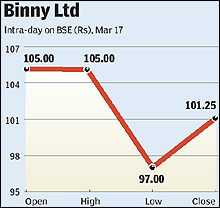 The scheme of arrangement provides for the demerger of the properties undertakings to SV Global Mill Ltd, agencies and services business to Binny Mills Ltd while Binny Ltd will continue to focus on its core business-textile trading. The authorised capital of the demerged company will stand increased to Rs 283 crore by the creation of an additional 5,20,00,000 cumulative redeemable preference shares of Rs 5 each. The equity shares of Binny Ltd are listed on the Bombay Stock Exchange and Madras Stock Exchange. The carved out entities have been allowed to list on bourses subsequently.
The present management took over the company in 1987. Binny was declared as a sick unit by the Board for Industrial and Financial Reconstruction (BIFR) in 1993 and came out of it by the order of Madras High Court on August 7, 2008. Subsequently, the board of directors of the company on October 30, 2008 approved a detailed business plan for the development of its engineering, properties, textiles, agencies and warehousing businesses.