Haryana saw various big-ticket investment projects taking off this year.
Most of them are being carried out under the aegis of Haryana State Industrial and Infrastructure Development Corporation (HSIIDC).
The corporation is developing a petrochemical hub in Panipat after Indian Oil Corporation (IOC) pulled out of the project. After IOC walked out of the petrochemical hub project in Panipat, HSIIDC has gone ahead with its development on its own. The corporation is expected to pump in about Rs 3,700 crore.
The KMP Expressway connecting Kundli-Manesar-Palwal has seen 32% completion. Around Rs 750 crore have been invested into the expressway, which will cost around Rs 2,000 crore.
Reliance Industries is expected to get a partner for its proposed SEZs in Gurgaon and Jhajjar.
Giving details about the SEZs, a senior official of HSIIDC told FE, Since the in-principal approval of the 12,500-acre Gurgaon SEZ has expired, the company is filing for a fresh approval. RIL has approached the state government for acquisition of 1,700 acre to make 4,300 acre of identified land contiguous. The company has acquired around 7,000 acre out of 12,500 acre in Jhajjar.
HSIIDC has recommended RILs SEZ to be included under the DMIC project, which would cover it as a separate investment region. Moreover, Reliance Industries is scouting for a partner to further develop this project.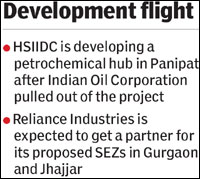 Four early-bird projects have also been identified to be implemented as a pilot initiative within the DMIC sub-region of Haryana. These include mass rapid transportation system (MRTS) between Gurgaon-Manesar-Bawal, exhibition-cum-convention centre, integrated multimodal logistics hub and new passenger rail link.
The pre-feasibility studies for exhibition-cum-convention centre and integrated multimodal logistics hub are being conducted. Gurgaon has been shortlisted as the site for convention centre (300 acre) and the logistics hub (1,500 acre) is proposed to be developed in Rewari. Pre-feasibility study of the MRTS project is also being conducted, said the official.