With bankers and financial institutions reducing advances to the power projects amid growing concerns about the solvency of the sector, state-run equipment manufacturer Bharat Heavy Electricals is bearing the brunt. The companys receivables from power companies have hit a record R40,000 crore and the payment of at least half of this amount is overdue.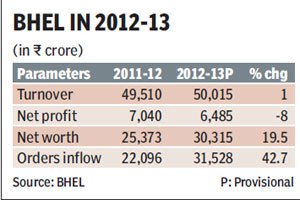 However, the market shrugged off the negative data on the assessment that the worst was over for the power sector, with the issues of fuel linkage and land acquisition getting resolved and the debt recast scheme for state electricity boards being under way. BHELs stock price closed 2.73% higher at R182.65 on the NSE on Monday.
Our receivables from power companies right now is R40,000 crore and half of this amount is already due for payment, BHEL chairman B Prasada Rao said. As per the companys financial results (provisional) for 2012-13 announced on Monday, its net profit dropped 8% over a year earlier while turnover growth remained flat at 1%.
BHELs earning before earning before interest, tax and amortisation margin worked out to 21%, which was 2% lower compared with the previous year. A senior company executive attributed the drop in the margin to the growing competition in the domestic power equipment market after entry of private players like Larsen & Toubro, Bharat Forge and JSW.
Sources said that developers ( from both the public and private sectors) had defaulted on equipment procurement bills as banks were reluctant to disburse loans to power projects due to the solvency concern about the sector.
Over recent years, bottlenecks in areas like land acquisition, absorption of additional fuel costs by consumers and financial health of state electricity boards had emerged as key dampeners to investment in the power sector. However, investors confidence seems to have improved after intervention by the Prime Ministers Office to tackle these issues.
Amit Patil, a research analyst with Angel Broking, said: BHELs tentative financial results for FY13 are better than our expectations. The bright spot seems to be the turnaround in order flows. The company received orders worth R31,528 crore in 2012-13, 42.7% higher than the previous year. It also commissioned 11% more capacity during the year.
BHEL has reported net profit of R6,485 crore in the financial year 2012-13, compared with R7,040 crore in he previous year. The companys turnover, which was R49,510 crore in 2011-12, increased to R50,015 crore in the year 2012-13.
BHEL has envisaged doubling its turnover to R1 lakh crore by March 2017.
But fuel issues continue to linger despite the PMO intervention, with Coal India unable to step up domestic coal product to meet fuel demand of the power sector. In that scenario, dependence on costly coal imports would only increase and could constrain the power sectors capacity addition programme, according to industry experts. Power sector cannot improve unless fuel issues are resolved, said Ashok Khurana, director general, Association of Power Producers.
BHEL is feeling downward pressure on its profit margins due to growing competition. If the situation in the power sector does not improve soon, the power equipment maker could encounter serious difficulties in meeting the target.