Bharati Shipyard Ltd (BSL), one of the largest private shipbuilders in India, reported a marginal increase in net profit to Rs 32.93 crore in the December 2009 quarter, against Rs 32.68 crore in the quarter ended September 2009. However, the slowdown in the shipping industry and over-supply took a toll on the companys revenues, which declined sequentially by 4% to Rs 319.48 crore in this quarter, as compared to Rs 333.52 crore in last quarter. We have reported consistent quarter-on-quarter growth for the last quarters on the back of high quality order book position, said PC Kapoor, managing director, BSL.The companys earnings before interest, taxes, depreciation and amortisation (EBITDA) stood at Rs 76.91 crore in the December 2009 quarter.
The company currently holds 45.88% stake in Great Offshore, translating into 1,70,84,352 number of shares at a total cost of Rs 812.45 crore. The average cost per share works out to Rs 475.55. We are happy with our share holding in Great Offshore. When time comes, we will take the issue of management control. As of now, the board has not taken any decision in that front. Also, we want to clarify that we are not holding any dialogue with ABG Shipyard regarding buying their stake in Great Offshore, said Kapoor.
The companys shares on Thursday closed at Rs 271, down 2.31% on the BSE from the previous days close. The company has a total debt of Rs 1,000 crore which also includes Rs 300 crore of working capital and has no cash on books. It has a capex of Rs 150 crore for the year 2010-11, for which Bharati has already raised funds. BSL is looking at bidding for fresh defence orders of huge magnitude for which the management refused to divulge information.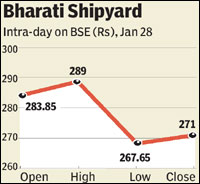 The company has a strong order book position of Rs 4987.4 crore and its majority of order book comprises of offshore segment like anchor handling tug supply, offshore supply vessels and rigs.